IDEX: POLISHED DIAMOND PRICE INDEX STABLE IN JULY 2018
The IDEX polished diamond price index rose very slightly during the month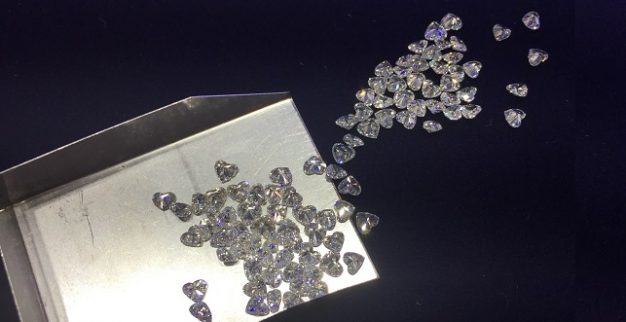 The IDEX polished diamond price index, published by IDEX Online, remained stable in July, rising "very slightly" during the month. The Index began the month at 125.39 and ended at 125.61.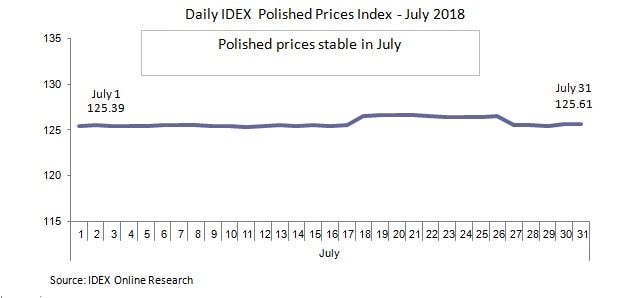 Since the last quarter of 2017, polished diamond prices have been on an upward trend. However, as seen in the graph below, since January 2013 polished diamond prices shows a 5.3% decline to-date.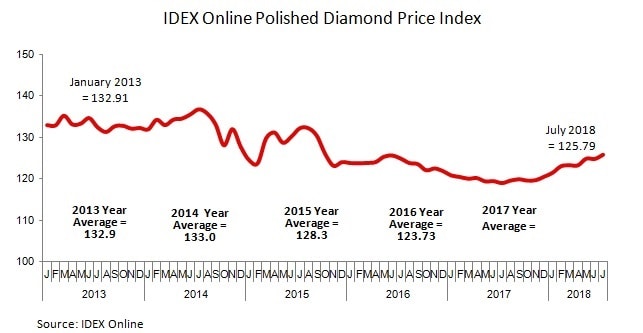 According to IDEX Online, global polished diamond prices in July showed a rise of 0.8% from June. Year-on-year, the picture is more optimistic, as the average price in July showed a 5.7% increase.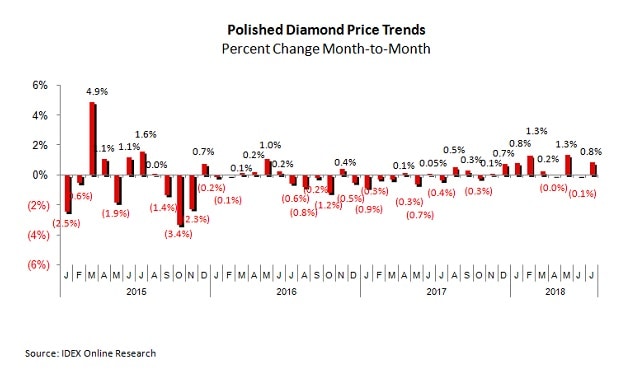 Diamond Prices by Size
When comparing polished diamond prices month-to-month, "there were four rising categories and just two decliners". On a year-on-year basis, all categories increased apart from 4.0-carat stones.
Since January 2013, "4-carat stones have shown the most price volatility, while diamonds of 2 carats and below have shown stability and rising prices since the start of 2018".
A Quiet July Meets Trading Expectations
According to IDEX Online, "diamond trading in July was in line with seasonal expectations". Many diamantaires are on vacation during July and trading "was quiet". Additionally, despite the fact that many buyers "were hoping for a larger discount during the summer slow season, sellers who have had a strong first half of 2018 did not feel the need to sell low".
According to the analysis on IDEX Online, manufacturers are keeping prices of polished diamonds high "due to the relatively high cost of goods in the second quarter of this year, and traders are not finding it easy to replace polished goods they sold in the pre-summer quarter".
Read the full analysis here.