MIT DEVELOPS INK THAT CHANGES THE COLOR OF 3D PRINTED JEWELRY
MIT DEVELOPS INK THAT CHANGES THE COLOR OF 3D PRINTED JEWELRY
ColorFab is a new method for recoloring 3D printed objects – including jewelry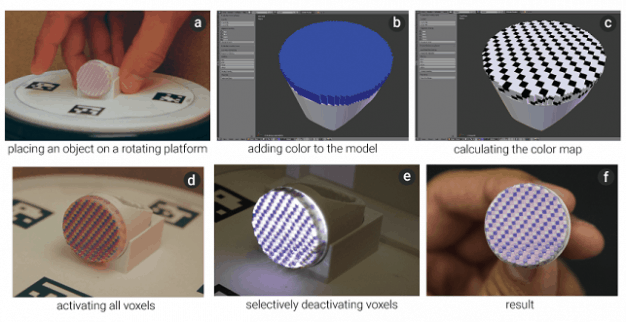 A team at MIT's Computer Science and Artificial Intelligence Lab, headed by Professor Stefanie Mueller, has developed ColorFab – a new method combining software, hardware and special 3D ink for recoloring 3D printed objects – including jewelry.
The research team used photochromic materials that can switch appearance from transparent to colored when exposed to light of a certain wavelength. The color remains even when the object is removed from under the light source. What's amazing about the process is that it's fully reversible, allowing users to recolor the object as many times as they want.
How it Works
Users start by either creating a new 3D model or by loading one. To convert the 3D model for the photochromic printing process, they first select the desired colors from the menu (red, blue, and yellow), then hit the 'process' button in ColorF-ab's user interface.
The researchers say they can change the color of an object in 25 minutes, but claim that the process can be sped up with some future improvements, such as using a more powerful light source.
Applications
Although the research team has focused only on creating a ring with this technology, they believe its future uses extend far beyond jewelry.
"Accessories, such as earrings, bracelets, necklaces, and smart watches tend to be worn on an everyday basis, making it difficult to pick a color that matches all outfits", the paper says, "With ColorFab, such accessories can be recolored depending on what the user is wearing".
According to the researchers, while low-cost 3D printing is still too slow to fabricate customized objects in store, they "envision that in a first step, stores will pre-stock mass-manufactured products but let customers select the colors on demand based on their own preferences".