Turn of the Tide? US Jewellery Sales Trend Upwards in May
Turn of the Tide? US Jewellery Sales Trend Upwards in May
Analyst shows how the global spread of coronavirus affected jewellery sales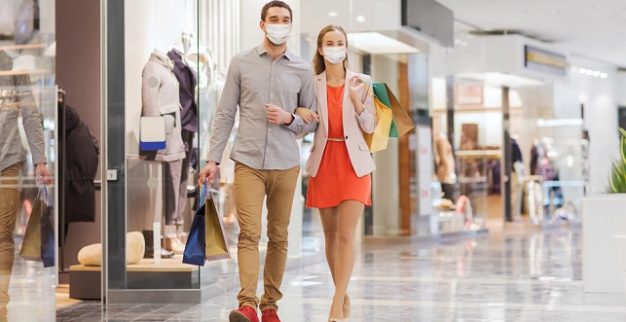 A recent article published by Edahn Golan Diamond Research & Data analyses how the global spread of coronavirus has affected jewellery sales – both of diamond-set jewellery and lab-grown jewellery – and "how the tide is perhaps starting to turn" in May.
Retail Sales
Around the world, governments have dealt with the spread of the virus by varying degrees of lockdown and closure of stores. Consequently, in the US, sales in jewellery stores dropped from $2.65 billion in February to about $470 million in April – a period covering Valentine's Day sales "to the height of the retail crisis". Sales among US specialty jewellery retailers fell some 82% in the span of just two months.
In May, as lockdown measures were partially lifted and consumer confidence rose, as well as demand ahead of Mother's Day, sales of specialty jewelers rose to $1.35 billion – up more than 230% month-to-month.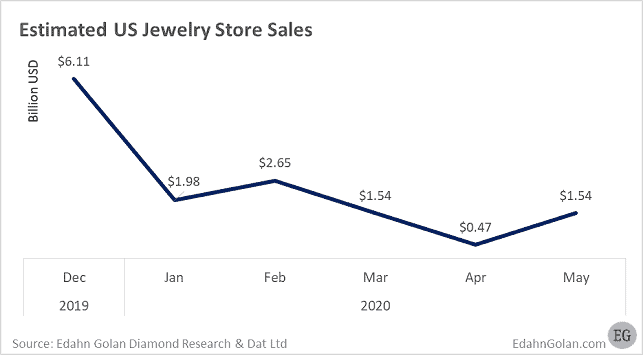 LGD Sales
Sales of lab-grown diamonds fell 41% in March and another 40% in April, bringing sales down by 65% during these two months. By volume, sales fell 69% in April compared to February. However, the average value per sold stone "was not only relatively steady, prices actually increased 13% in April vs. February".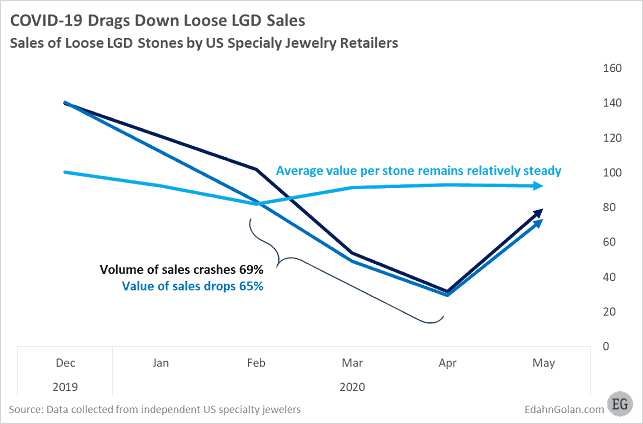 Additionally, total sales of LGD-set bridal jewellery dropped 72% during the period. However, just like loose LGD, retail prices of sold items were fairly steady. Retail prices decreased by about 13%, "indicating that younger buyers, especially of LGD, are very price sensitive".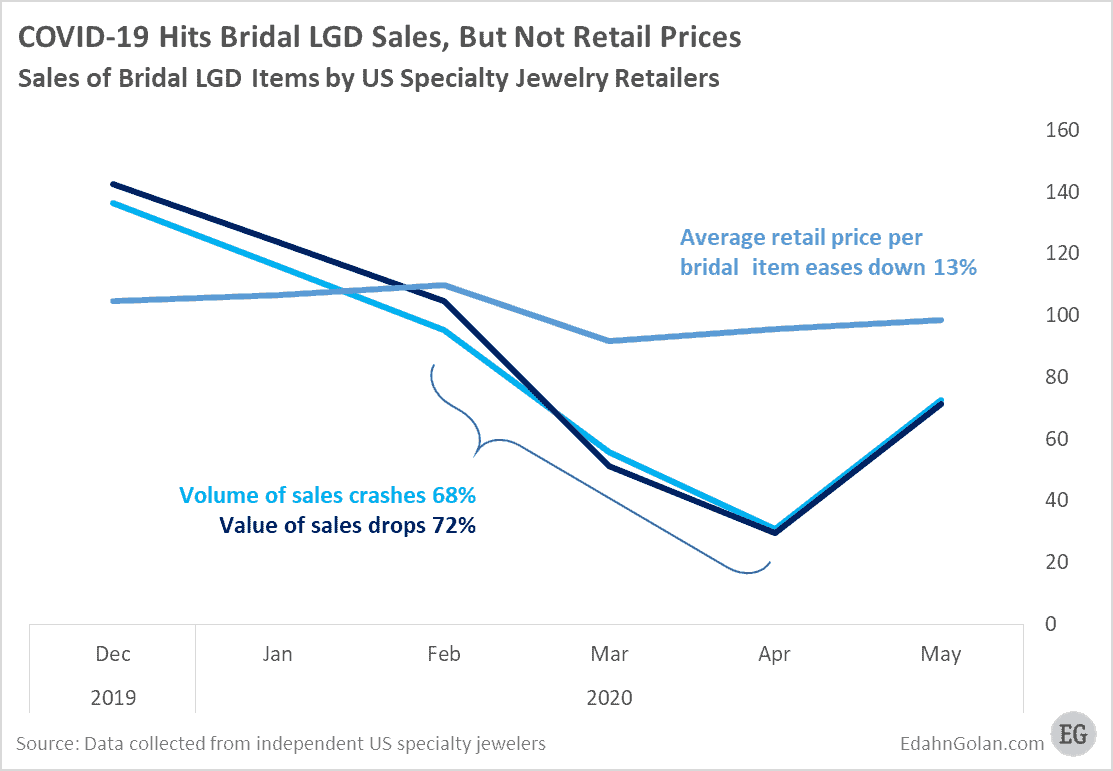 Wholesale Activity
Wholesales benefited by the partial reopening in key countries: As the coronavirus hit the US, the severe lockdown in China started to ease, "providing traders with a sales venue". Throughout the March-to-May period, exports from Belgium to Hong Kong continued and some cargo flights continued from India, "some carrying diamonds", according to Golan.
Overall, trade fell 48% in March and then another 95% in April. In total, trade in April was down 98% compared to February. In May, wholesale activity "sprang back to life" with a leap of to "just" 38% below February levels.
In conclusion, says Golan, while global shutdowns and a widespread halt in activity led to a massive loss of revenue, sales began to rebound in May.