GDX: POLISHED DIAMOND PRICES RISE AGAINST ACTIVE TRADING
Polished diamond prices in Israel rose on average 0.12% during week eight (February 18-24) of 2018, compared to the previous week. GDX, Carats.io's general index, averaged 10,120.62 during the week. The index represents the most tradable diamonds in the Israeli diamond market.
The GDX index opened the week at 10,094.82, and closed at 10,098.69, rising 0.01% from start to end. On Wednesday, February 21 polished diamond asking prices peaked, against heavy trading in the Israeli diamond market. For a second week in a row, the most distinct rise was by GDX-J, which represents the leading goods for the American jewelry market. It rose on average 0.30% during the week and completed a 0.43% rise overall during the week.
The GDX-I index, which represents the top color and clarity polished diamonds traded in the market, declined during the week. It opened at 2,017.23 and closed at 2,009.54, a 0.36% decline. On average, the index fell 0.32% compared to the previous week.

During January, the first month of Carats.io's price indexes, prices posted a modest increase. From start to end, GDX rose 0.4%, GDX-J posted the greatest rise (0.8%) and GDX-I the smallest rise (0.2%). The increases reflected demand by American retailers who sought to restock in the post-holiday season period. Retailers' purchases were specific and targeted goods for in-store setting, as reflected by GDX-J.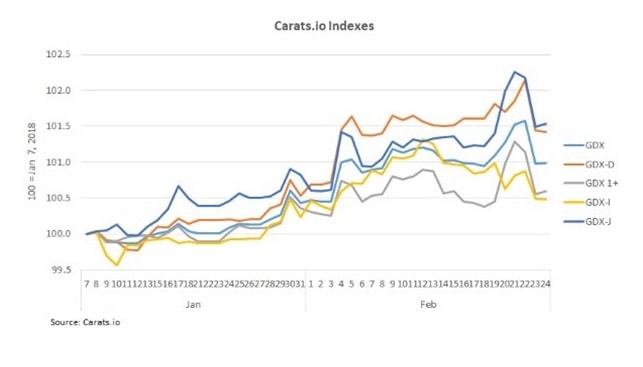 Learn more about GDX and how it's works