GDX: POLISHED DIAMOND PRICES DECLINE IN POST-SHOW CORRECTION
Polished diamond prices in Israel inched down during the past week, the tenth week of the year (March 4-10). Prices declined on average by 0.14%, compared to the previous week, according to the GDX index. GDX, Carats.io's general index, averaged 10,015.14 during the week. The index represents the most tradable diamonds in the Israeli diamond market.
Polished diamond prices rose during January and most of February against increased demand from the US retail market, and continued demand in the wholesale section of the diamond pipeline ahead of the Hong Kong International Diamond, Gem and Pearl Show. The high expectations from the trade fair fanned the price hikes. However, mediocre demand at the show cooled prices, leading to a series of small downward price adjustment during and in the days that followed the show.
The GDX index opened the week at 10,023.39, and closed at 10,023.92, rising 0.12% from start to end. The smaller goods continue to be those with the deepest price declines, as reflected by the GDX-D index of diamonds weighing 0.18-0.99 carats. The GDX-I index, which represents the top color and clarity polished diamonds traded in the market, was the strongest performer, rising on average 0.17%.

Prices Rise During February
Despite the declines late in the month, Carats.io's second month of indexed pricing, asking prices of polished diamonds increased overall during February. The rise was fueled by retailer restocking in the US following the November-December Holiday Season, a trade fair held at the Israel Diamond Exchange that generated large traffic and many transactions, as well as expectations for an active show in Hong Kong. During the month, the overall GDX index rose 0.85%. GDX-D increased 1.22%, reflecting strong demand for smaller diamonds in the US consumer market.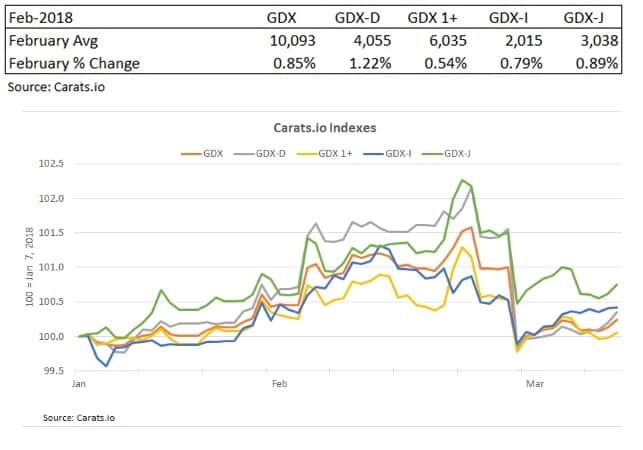 GDX Structure:
Carats tracks the asking prices of tens of thousands GIA certified, round diamonds, with no culet that are offered on Get-Diamonds.
● GDX – 0.18 – 2.5 carats, D-I, IF – SI2
● GDX-I –0.18 – 2.5 carats, D-F, IF – VVS2
● GDX-J –0.18 – 2.5 carats, G-I, VS1 – SI2
● GDX-D –0.18 – 0.99 carats, D-I, IF – SI2
● GDX 1+ – 1 – 2.5 carats, D-I, IF – SI2