YONDOR DIAMONDS RECEIVES THE "EXPORT AWARD" FOR 2017
The company, a family-owned business, engages in producing high quality diamonds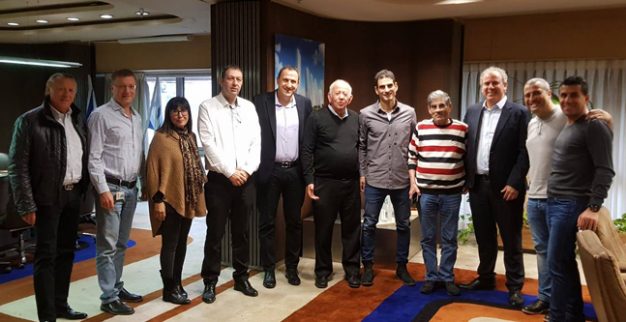 The company, a family-owned business, engages in producing high quality diamonds.
Every year, the Ministry of Economy and Industry honors the activity of leading Israeli exporters in various fields and large cross-sections, via the "Export Award". The "Export Award" for 2017 was given to Yondor.
"The Israeli export is the growth diameter of the Israeli market and a central source for stable employment, and social and financial prosperity", wrote Ohad Cohen, manager of the Foreign Trade Administration, in the notice to the company. "I wish to reinforce you and all the employees of your company for your success, and I hope that your company's growth in export will continue to advance in the upcoming years".
The president of the Israel Diamond Exchange, Yoram Dvash, congratulated the owners of Yondor, Eli Tzroya, his son, Doron Tzroya, and Shlomi Cohen, the office manager. In a meeting that took place in his bureau, Dvash said that "Doron, the CEO of the company, has directed the company in the last few years to impressive achievements and growth, while standing strong against the challenges of this complex period. This is the character of a diamond dealer that we wish to see in the Diamond Exchange. Yondor is a source of pride for us, and I wish you with all my heart great success, and that you will keep on growing and extending the field."
Yondor is a family-owned company that deals with producing high quality diamonds, sized one karate and more. The company focuses on white and color diamonds, of high qualities and unique shapes, certified by the world's chief gemological laboratories. The company has been operating in the diamond field for over 30 years.
The selection committee on behalf of the Ministry of Economy was led by Sigal Shidlovsky, the Vice Diamond Controller.