ISRAELI DIAMOND PAVILION AT NOVEMBER HKJMA SHOW TO FEATURE 27 COMPANIES
ISRAELI DIAMOND PAVILION AT NOVEMBER HKJMA SHOW TO FEATURE 27 COMPANIES
The Israeli Diamond Industry is returning to the Hong Kong International Jewelry Manufacturers' Show, to be held November 26 - 29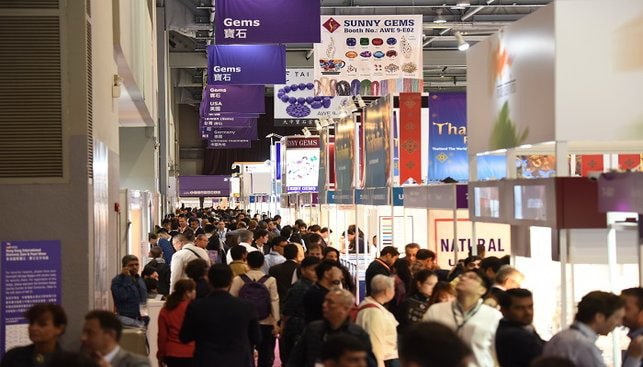 Ramat Gan, Israel, November 4, 2015: The Israeli Diamond Industry is returning to the Hong Kong International Jewelry Manufacturers' Show, to be held November 26 – 29 at the Hong Kong Convention & Exhibition Centre. Last year was the first time that Israel had a national pavilion at the show. This year the Israeli Diamond Pavilion, organized by the Israel Diamond Institute Group of Companies (IDI), will host 27 companies, 10 of them participating in the show for the first time.
Organized by Hong Kong Jewelry Manufacturers' Association (HKJMA), the show features fine jewelry, loose diamonds, pearls and colored gemstones. It attracts buyers from mainland China, Taiwan, the Philippines, Indonesia and other parts of Asia Pacific. The timing of the show enables buyers to stock up on last minute purchases before the busy holiday season.
IDI's "Find Your Diamond" system, which enables buyers to search a computerized database for exactly the goods they seek among the Israeli exhibitors, will be available at a dedicated terminal at the pavilion. Find Your Diamond is available in both English and Chinese. Moreover, buyers are now able to access Find Your Diamond on their smartphones. In addition, IDI will also be a sponsor of the HKJMA 27th Anniversary Dinner on November 26, where the 2015 Miss Jewellery Hong Kong pageant will take place.
Asia is Israel's second largest market for polished diamonds, accounting for about 30% of its total exports. Hong Kong trade shows have been a strategic focus for the Israeli Diamond Industry for many years, and IDI has organized huge national pavilions at shows in March, June and September. Last year the HKJMA show was added to IDI's trade show calendar and it has been welcomed as an additional opportunity to meet Asian buyers.
IDI Chairman Moti Ganz said that he was pleased that Israeli diamond companies were returning to this show. "With the addition of the HKJMA show, we're able to offer Israeli companies an additional opportunity to exhibit in Hong Kong. Asia is a strategic market for the Israeli Diamond Industry. While these markets have undergone a slowdown they are still growing and we are optimistic about this show," Ganz said.
IDI Managing Director Eli Avidar also expressed optimism concerning the show. "Based on our experience at the September show in Hong Kong, we are looking forward to a good show for our diamond exporters. The timing will enable buyers to fill their last minute holiday season diamond needs," he said.