THE CHICAGO CUBS CHAMPIONSHIP RING HAS 214 DIAMONDS
THE CHICAGO CUBS CHAMPIONSHIP RING HAS 214 DIAMONDS
Chicago Cubs World Series Championship Ring, designed and produced by Jostens, is made from 14-karat white gold and 214 diamonds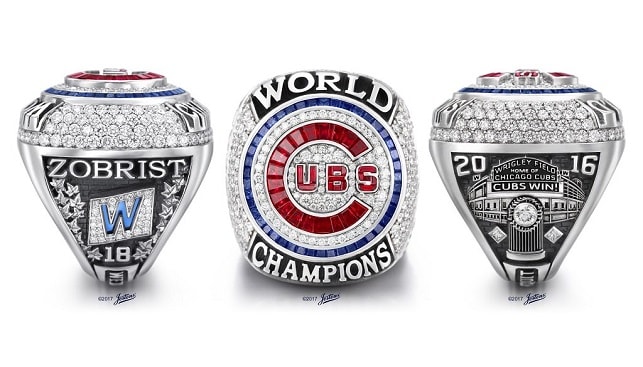 It took the Chicago Cubs 108 years to win another World Series, and it was worth the wait: according to multiple sources, each team member of the Cubs has received his championship ring last Wednesday (April 12) – and it has some serious bling.
According to the team, the Chicago Cubs World Series Championship Ring, designed and produced by Jostens, "is made from 14-karat white gold. Its top features the traditional Cubs bullseye logo, masterfully crafted from 33 custom-cut genuine red rubies that are surrounded by 72 round white diamonds, all within a circular perimeter made up of 46 custom-cut, genuine blue sapphires. The bezel is surrounded by 108 round white diamonds lifting the Cubs logo to victory and signifying the end of a historic 108-year championship drought. Overall, the ring contains 214 diamonds at 5.5 karats, 3 karats of genuine red rubies and 2.5 karats of genuine sapphires".
One side of the ring features the player's name set atop the iconic W Flag created from diamonds, and the other side displays the message 'CUBS WIN!' and a silhouette of the World Series Trophy with a large round white diamond set in the center.