CHRISTIE'S "A DIAMOND AFFAIR" OFFERS SOME STUNNING STONES
CHRISTIE'S "A DIAMOND AFFAIR" OFFERS SOME STUNNING STONES
The sale highlights a 40.05-carat Type IIa pear-shaped diamond necklace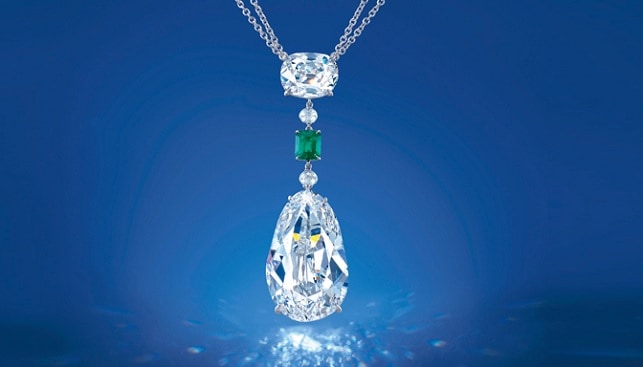 From October 29 to October 31, Christie's Luxury Private Sales (buying and selling outside of the auction calendar) will host what it calls "A Diamond Affair" – a selling exhibition of precious diamonds, Italian tailoring and original James Bond artwork – all available for immediate purchase.
The event, hosted in collaboration with menswear luxury house Brioni, will feature the Eye of Golconda – a 40.05-carat Type IIa Golconda pear-shaped diamond pendant necklace.
The sale will also include a pair of 13.35-carat and 12.03-carat fancy intense yellow, rectangular-cut diamond ear pendants; and a 3.42-carat fancy vivid blue heart-shaped diamond.