Christie's Hong Kong: Jadeite Bead Necklace Sells for a Staggering $8.8 Million
Christie's Hong Kong: Jadeite Bead Necklace Sells for a Staggering $8.8 Million
The beads were set with an 11-carat cushion-cut Burmese ruby surrounded by oval-cut diamonds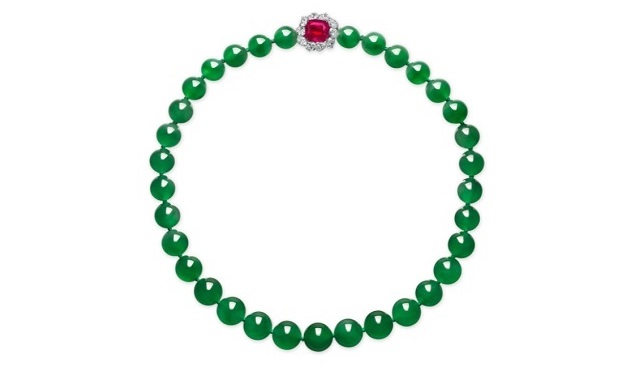 Following "spirited competition" at Christie's Magnificent Jewels live auction in Hong Kong, a necklace of 33 exceptional jadeite beads sold for $8,836,123 to a collector on the phone, IDEX Online reports.
The beads "were set with an 11-carat cushion-cut Burmese ruby surrounded by oval-cut diamonds."
Sales totaled $56.3 million, with Christie's selling 85% by lot and 83% by value. According to Vickie Sek, chairman of Christie's Asia Pacific jewelry department, "our Hong Kong saleroom exhibited market vibrancy and strong buying momentum […]".
This week (June 6 to 16 online, and at Christie's King Street from the June 7 to 15) Christie's is presenting "Jewels Online: The London Edit", a jewelry auction that features pieces from the early 19th century to present day, including "a spectacular antique natural pearl and diamond brooch, alongside signed jewels from notable houses such as Garrard, Cartier, Van Cleef & Arpels, Harry Winston, Hemmerle and Bulgari," according to Diamond World. These are even a pair of Graff diamond earrings, donated by J.K. Rowling. The jewels will be on view at Christie's King Street from the 7 to 15 June.