THE PINK PANTHER GETS ITS OWN ARGYLE DIAMOND INGOT
THE PINK PANTHER GETS ITS OWN ARGYLE DIAMOND INGOT
The Perth Mint has created a limited collection of Pink Panther 2018 1oz Pink diamond ingots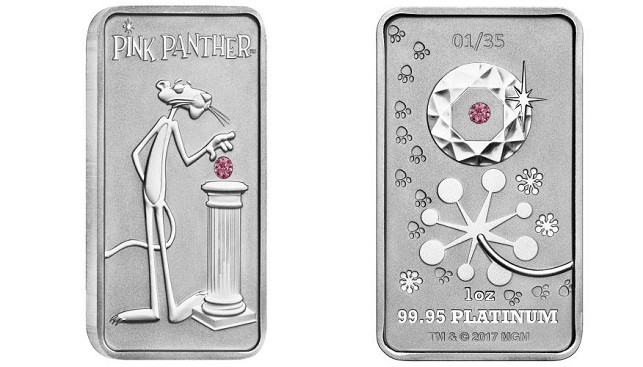 The Perth Mint has created a limited collection of "Pink Panther 2018 1oz Pink diamond ingots", according to a report quoted by Rough & Polished. The diamonds in the pieces are pink diamonds from Rio Tinto's Argyle mine.
Only 35 ingots were made in platinum, and 300 in gold. Each ingot has two rare Argyle pink diamonds – one each on the reverse and obverse – with a total carat weight of 0.08 ct and in colour grades between Fancy Intense to Vivid Purplish Pink.
Perth Mint CEO Richard Hayes is quoted as saying: "Working with Metro Goldwyn Mayer (MGM) to produce this licensed product range, which also features some of the world's rarest coloured diamonds, the ingot collection is sure to impress Pink Panther enthusiasts".