VIVA LAS VEGAS: WATCH THE ISRAELI PAVILION AT JCK
The marketing efforts of the Israel Diamond Institute at JCK paid off - watch our video summary
24 diamond companies, Get-Diamonds search terminals, refreshments and plenty of surprises awaited the many visitors who arrived at the Israel Diamond Pavilion at JCK Las Vegas, which opened Friday (May 31) and closed today (Monday, June 3).
As happens every year, the Israeli pavilion was organized by the Israel Diamond Institute (IDI). Both the show and the pavilion changed locations this year, and the IDI promoted the goods sold by the Israeli diamond companies through several channels. Among other promotional efforts, the IDI Booth, located at the center of the pavilion, held raffle draws for buyers who purchased goods from the pavilion, and offered Get Diamonds terminals that enable buyers to search for goods among the Israeli exhibitors. The IDI Booth and Lounge offered refreshments throughout the day, including an attractive Happy Hour that served to draw even more visitors. Finally, the IDI produced a promo video inspired by the recent Avengers films, featuring the Israeli exhibitors at the show as its heroes. Judging from the robust traffic at the pavilion, these promotional efforts certainly worked.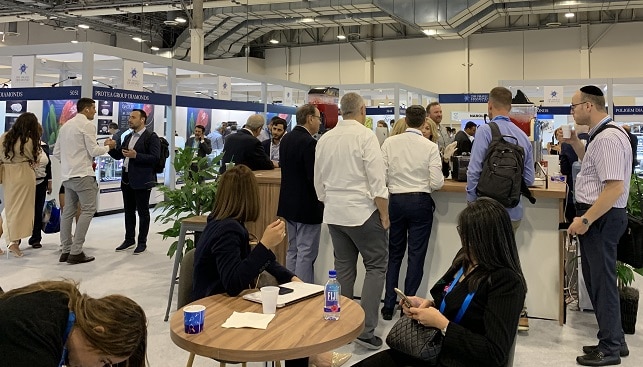 Aviel Elia, recently appointed as IDI's Managing Director, visited JCK for the first time, and commented: "I was happy to see our marketing team in the field, after long months of work and preparation. This year's show is different than last year's in several aspects, among them the show's location, the location of the booths, and the organization. The IDI booth is located at the center of the Israeli pavilion, and draws many visitors. I hope this translates into good sales for our exhibitors as well".
Ira Tsirlina, Chief Marketing Officer of IDI, added: "The changes this year are well-felt and positive. Last year, the Luxury show was held on a separate floor. This year, all the shows run in the same location, and with a sensible internal organization. We are very happy and excited about the new Israeli pavilion".
Written by Iris Hortman