PINK LEGACY DIAMOND GOES TO AUCTION, COULD GO FOR $50 MILLION
Christie's to auction an 18.96-carat Fancy Vivid Pink descended from the Oppenheimer Family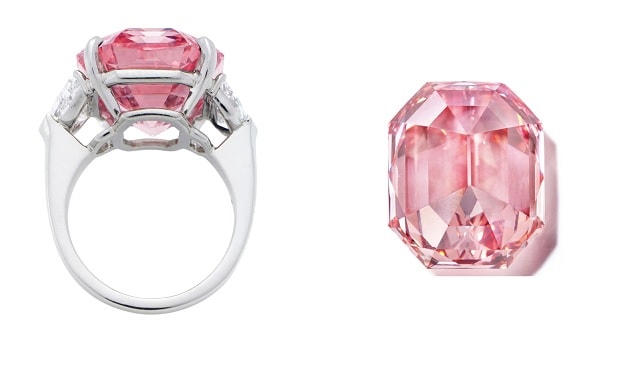 An 18.96-carat Fancy Vivid Pink diamond descended from the Oppenheimer Family and dubbed "Pink Legacy" could fetch between $30 to $50 million at Christie's Magnificent Jewels auction in Geneva on November 13. Ahead of the sale, the diamond and other highlights from the auction will travel to Hong Kong, London and New York.
Rahul Kadakia, International Head of Jewellery at Christie's, says that the diamond "is set to make auction history" due to its special attributes: "The saturation, the intensity of this stone is as good as it gets in a coloured diamond", states Kadakia, "to find a diamond of this size with this colour is pretty much unreal You may see this colour in a pink diamond of less than one carat. But this is almost 19 carats and it's as pink as can be. It's unbelievable".
The diamond, a type IIa stone shows no trace of a secondary colour and has been qualified by the GIA as Fancy Vivid. Moreover, Kadakia adds, "in the Fancy Vivid Pink range, diamonds of more than five or six carats are rarely encountered. In fact, fewer than 10% of pink diamonds weigh more than one-fifth of a carat. In the saleroom, Fancy Vivid Pink diamonds over 10 carats are virtually unheard of — in over 250 years of auction history at Christie's, only four such stones have ever appeared for sale".