Analysis: Average Spend on a Diamond Engagement Ring Went Up in 2020
Analysis: Average Spend on a Diamond Engagement Ring Went Up in 2020
How much have US consumers spent on diamond engagement rings in 2020?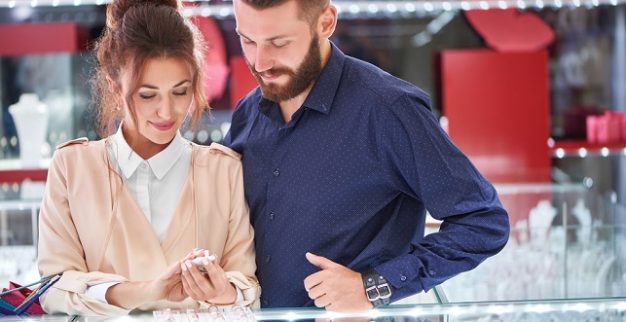 In a recently published article on Edahn Golan Diamond Research & Data, diamond analyst Edahn Golan looks at how much US consumers have spent on diamond engagement rings in 2020, and reaches several interesting insights.
The Covid Effect
According to Golan, the average spend by US couples on a diamond engagement ring was $3,726 in the fourth quarter of 2020. This figure, based on an analysis of sales by more than 780 independent US jewelry retailers during October-December 2020, represents a rise over the previous couple of years.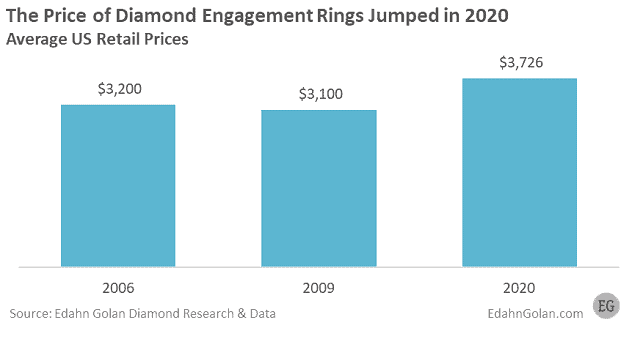 One possible explanation for the rise, Golan says, is Covid-19. The pandemic has cancelled travel, delayed weddings and resulted in "a much-reduced expenditure level during the year". Another possible explanation is that independent jewelry retailers sell higher priced jewelry when compared to chains such as Kay and certainly Macy's and Wal-Mart.
LGD-Set Engagement Rings and Other Stones
In Q4 2019, lab-grown engagement rings, that is – engagement rings set with lab-grown stones – were priced 20% less than engagement rings set with natural diamonds. But, in Q4 2020, prices of LGD-set engagement rings rose sharply, "and the price difference was slashed to just 9%".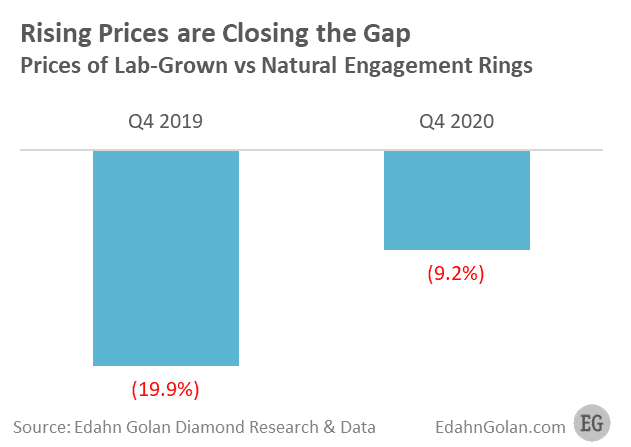 Engagement rings set with stones that aren't diamonds, such as sapphires, rubies, and other semi-precious gems, "are also selected by those who want something different", Golan says. However, choosing an engagement ring set with a natural diamond "is rare". In December, for instance, "lab-grown engagement rings, the most common alternative, were only 2.9% of sales".
As for the near future, Golan says he expects two trends to happen in the mid-term: First, the average price of engagement rings will decline to its previous levels. Second, alternative engagement rings – namely, LGD-set engagement rings and engagement rings set with semi precious stones – will become more prevalent.
Read the full article here