FOUR UNIQUE AND CREATIVE NEW WATCHES
FOUR UNIQUE AND CREATIVE NEW WATCHES
A new piece on the Jewellery Editor explores four examples of fun and creative watchmaking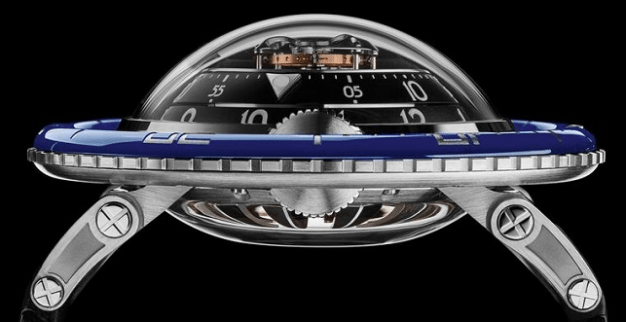 A new piece on the Jewellery Editor explores four examples of fun and creative watchmaking.
MB&F HM7 Aquapod
The HM7 Aquapod by MB&F is "a crazy bubble-shaped vessel inspired by the silhouette of a jellyfish". It is radially symmetric like the jellyfish, and it generates power from its tentacle-like rotor.
The Aquapod isn't a dive watch, but it does resemble the properties of clear water by using a domed body which shows off "the sophisticated mechanical spectacle going on inside the engine room".
At the center of the watch is the brain of the Aquapod, which is "represented by a flying tourbillon and encircled by two discs – one for the hours, the other for the minutes". When the lights go out, it lights up with blue lume, below.
The Aquapod is available in titanium with a blue ceramic bezel (€92,000) or red gold with a black bezel (€110,000).
Romain Jerome Donkey Kong watch
This ultra-cool timepiece caters to the original Donkey Kong arcade game from the 1980s, as "Mario's attempts to climb a set of girders, avoiding the barrels and fireballs launched by an angry gorilla – is faithfully recreated on the dial of this watch". The model is a joint collaboration with Nintendo, and "the dial recreates the pixelated effect of the original game".
Donkey Kong dominates the top half of the dial and the hammer and the other elements applied to the background are hand-painted in cold enamel in the original colors. The watch, priced at €14,500, is housed in a 46mm titanium case with ball-and-socket joints.
Ulysse Nardin North Sea Minute Repeater
The Sea Minute Repeater by Ulysse Nardin will force you to part with €236,000, and with good enough reason: it depicts an offshore oil rig drilling in the ocean for black gold, and sculpted in 18-carat gold. It is set against a stunning champlev? enamel background of turbulent dark waters and a red sky.
Additionally, "three gold cranes move up and down in time to the chimes of the minute repeater".
HYT H3 Iceberg
The HYT H3 Iceberg is shaped like a giant razor. To indicate hours, it uses a blue fluid, pushed along by two bellows at the top of the case. This, in turn, "is placed on one of the six white ceramic rotating cubes bearing the 24 hours […] The minutes are also retrograde, and a red hand jumps from right to left along the sapphire minute track just below the rotating cubes".