GIA: JCK LAS VEGAS ATTENDANCE DECLINES, BUT EXPECTATIONS MET
GIA: JCK LAS VEGAS ATTENDANCE DECLINES, BUT EXPECTATIONS MET
Attendance, demand for diamonds and jewelry trends at the recent JCK Las Vegas Show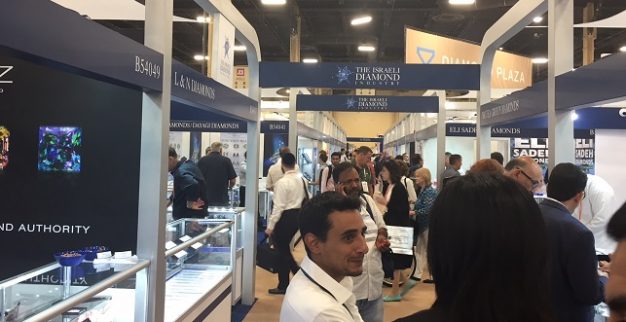 In a recent GIA article analyzing the latest JCK Las Vegas show (June 1-4, 2018), Russell Shor, a senior industry analyst at GIA in Carlsbad, says that the show "met the expectations of the trade, despite declining attendance".
Steady Demand for Exhibitors
The majority of exhibitors – jewelry designers, manufacturers and diamond dealers – "generally saw steady, if still somewhat cautious, business". Exhibitors of finished jewelry at the Mandalay Bay venue saw "slightly better" orders than last year, but many said that the importance of the show stems from making new contacts.
The same was true for manufacturers that sell all their products online, who reported that "the show has become more of a place to listen to client concerns and take suggestions".
Jewelry Trends
According to Shor, the trend of producing designs at multiple price points has accelerated this year. Some jewelry manufacturers, he says, offered lines that combined rock crystal and manufactured crystal glass with gemstones set in vermeil and sterling silver. That means that jewelry designs at the show tended to be "mixed precious and non-precious materials to maintain attractive prices".
Additionally, female self-purchase, which "has become a very important niche for jewelry makers", resulted in lines in the $500-$1,000 price range "to appeal to women who might buy jewelry on an impulse […]".
Attendance
Shor says that "attendance at the JCK Show was reportedly down from recent year. The story was similar at the Couture Show", a show running concurrent with the JCK show. There, "diamond dealers at the show reported steady demand, but found cautious retailers".
While there is still no official buyer count, Shor says that "most exhibitors believed it was significantly down from past Vegas shows […] In addition, exhibitors noted that many clients order online, skipping the shows altogether".