Polished Diamond Prices Down in April; Industry Future Cautiously Optimistic
Polished Diamond Prices Down in April; Industry Future Cautiously Optimistic
Diamond prices went down in April, but the industry can be optimistic about the future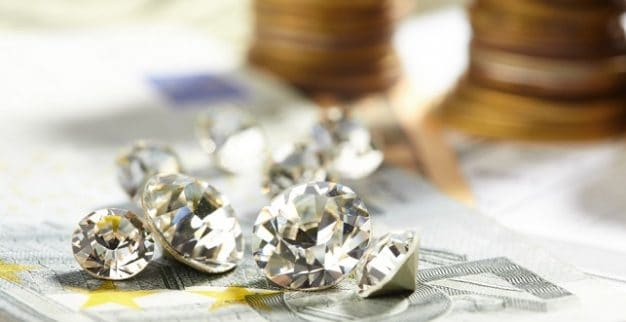 A recent article published by Edahn Golan Diamond Research & Data analyses the prices of polished diamonds in April as well jewellery sales in the US during the same month, and provides a cautiously optimistic outlook for the months to come.
Polished Prices
The decline in polished exports – down about 85% in April according to preliminary figures – has led to a decline in prices. Prices across the board were down 1.7% in April compared to March, "with third-carats suffering the deepest declines, following five months of rising prices". 3-carat rounds enjoyed relatively good demand by consumers and declined the least.

Over the long term, the smaller stones – 0.30 and 0.50-carat size ranges – declined less than larger sizes, "reflecting the ongoing design trend of smaller, more intricate designs". The next best performing items were 2 carats and larger. The steepest declines over the past year belong to 1-carat stones, reflecting a decline in demand "coupled with consumer pressure to lower prices".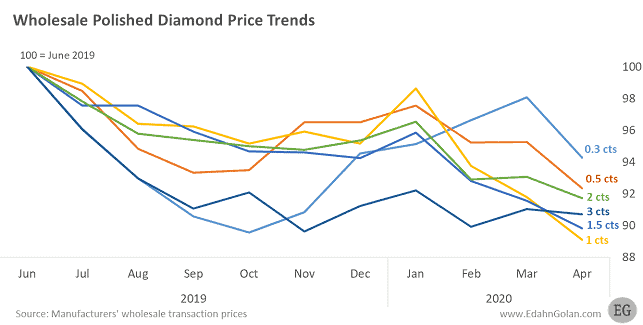 US Jewellery Suffers
According to preliminary figures, total jewellery sales were estimated at $3.14 billion in March, down 24.7% year over year in April, and 37% month over month.
According to Golan, major retailers, such as Saks and Macy's, hardly sold any jewellery and Signet's brand stores (Kay's and Jared) were closed, as were about half of the independents.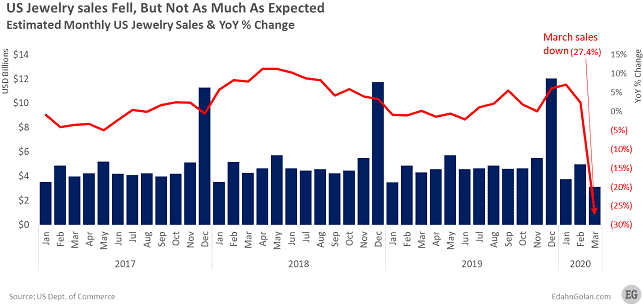 Post-Coronavirus Hopes
Golan is cautiously optimistic about the future, as "the worst of COVID-19 seems to be behind us". China and Hong Kong stores are reopening, as are others around the world. Despite rising unemployment, people will still marry and bridal jewellery will be purchased.
Although spending may be lower in the future, the volume is expected to be higher and once consumers start buying, "it will start a chain reaction – retailers will pull goods from wholesalers, which in turn will start up polishing and buying rough".
However, Golan says, the effects of the financial crisis will be with us for a while: many companies in the diamond industry, from miners to retailers, will close. This, he says, "will result in a leaner pipeline, and that is a good thing". It will compel everyone in the industry to stay tuned "to what our clients really want and need". Golan adds that marketing is crucial for the recuperation of the industry, "powerful, precise, engaging, and effective. Without it, there is no business, and everyone needs to contribute their share".