DRAKE COMMISSIONS $400,000 DIAMOND ENCRUSTED IPHONE CASE
DRAKE COMMISSIONS $400,000 DIAMOND ENCRUSTED IPHONE CASE
The rapper order a case made of 18k white gold, studded with small blue diamonds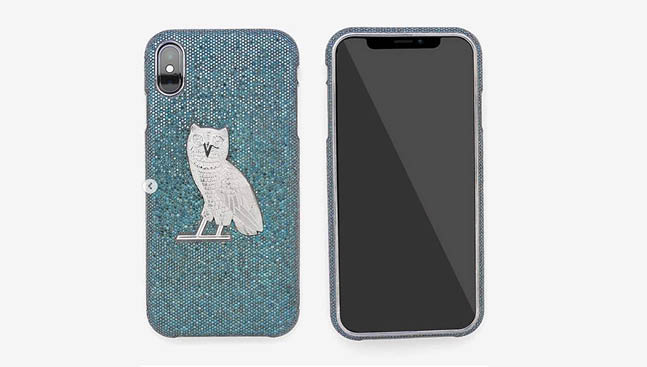 Drake, one of the most successful rappers in the world, sure loves his bling: According to numerous reports, the musician commissioned bespoke jeweler Jason of Beverly Hills to deliver a $400,000 iPhone X case made of 18k white gold and studded with small blue diamonds.
The case will also feature a white gold OVO owl logo in the center with two diamond eyes. The jeweler posted several videos of the piece on his Instagram, writing, "Because we can't do basic! Diamond iPhone cover for our friend @champagnepapi".
This isn't Drake's first over-the-top blingy commission from the famed jeweler. Last September, the rapper revealed a new original purchase on his Twitter: a real "life-size" owl pendant made of gold and plenty of diamonds. Jason of Beverly Hills then wrote on his Instagram that the owl pendant is made of "over a kilo of gold & and over 100 carats of Asscher cut diamond".