RARE FARNESE BLUE DIAMOND RAKES IN $6.7 MILLION IN AUCTION
RARE FARNESE BLUE DIAMOND RAKES IN $6.7 MILLION IN AUCTION
The Farnese Blue fetched $6,713,837 - well above its maximum estimate of $5.2 million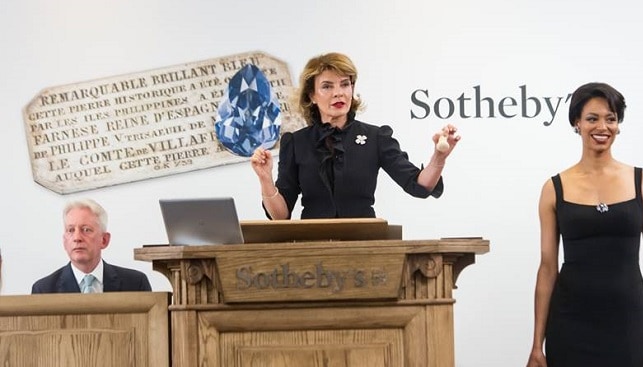 Sotheby's Geneva jewelry sale on May 15 saw three world-class diamonds rake in a lot of money for their sellers. The Farnese Blue diamond, given to Elisabeth Farnese, Queen of Spain, as a wedding present in 1715, fetched $6,713,837 – well above its maximum estimate of $5.2 million. The 6.16-carat pear-shaped blue diamond passed "through four of the most important royal families in Europe" and appeared on the market for the first time.
Two more diamonds, both of them white, also made impressive results. A 51.71-carat round diamond sold for $9,251,851; and a 50.39-carat oval diamond sold for $8,123,845. Both stones were discovered in Botswana, both are D-Colour, have Flawless clarity and both are Type IIa – "made up of just 2% of gem diamonds with the highest optical transparency".
50 countries participated in the Magnificent Jewels and Noble Jewels sale, which totaled $85,629,630. 82% of the lots were sold, 70% of the lots sold above high estimate.