HISTORIC BLUE DIAMOND GOES ON AUCTION AFTER 300 YEARS
The Farnese Blue, a 6.16-carat pear shaped blue diamond was given to Elisabeth Farnese, Queen of Spain, in 1715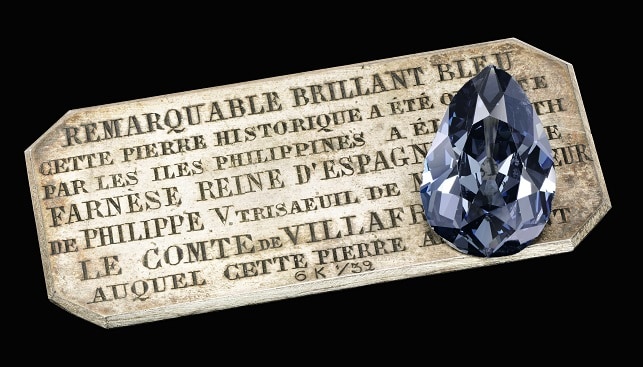 The Farnese Blue, a 6.16-carat pear shaped blue diamond given to Elisabeth Farnese, Queen of Spain, in 1715 will be offered in Sotheby's sale of Magnificent Jewels and Noble Jewels in Geneva on May 15. It is estimated at $3.7 – $5.3 million.
According to a press release, the legendary diamond passed down through the royal families of Spain, France, Italy and Austria. While traveling in Europe, the stone was kept secretly "in a royal casket" and excepting close relatives and the family jewellers "no one knew of its existence".
David Bennett, Chairman of Sotheby's International Jewellery Division and Co-Chairman of Sotheby's Switzerland, said: "It is difficult to put into words the excitement of holding between thumb and forefinger a gem discovered centuries ago, knowing it originated in the legendary Golconda diamond mines of India. This stone has witnessed 300 years of European history, and in colour is reminiscent of historic Golconda blue gems such as the Hope diamond".