SOTHEBY'S TO AUCTION $15 MILLION BLUE DIAMOND RING
SOTHEBY'S TO AUCTION $15 MILLION BLUE DIAMOND RING
The Magnificent Jewels sale will be led by a 5.69- Carat Fancy Vivid Blue Diamond Ring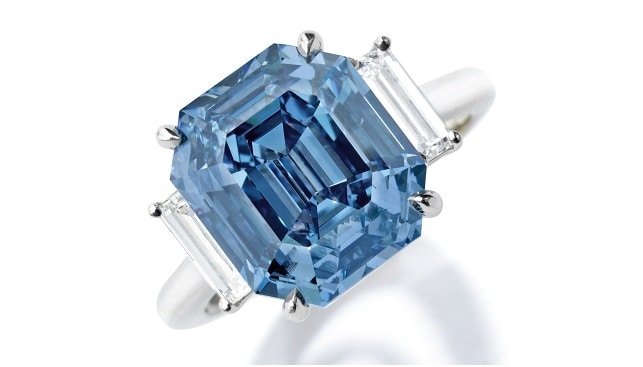 Sotheby's Magnificent Jewels and Fine Jewels auctions, which will be held in New York in December, will offer a "variety of vintage and contemporary pieces by renowned houses including Van Cleef & Arpels, Tiffany & Co., JAR, and Harry Winston" – including one very special, and expensive, diamond ring.
The Magnificent Jewels sale will be led by an exquisite 5.69- Carat Fancy Vivid Blue Diamond Ring, estimated at $12-$15 million, and an extremely rare 110.92-Carat Round Diamond, estimated at $4.2-$6.2 million. The latter is "the largest round diamond ever to be offered at auction", according to Sotheby's.
Gary Schuler, Chairman of Sotheby's Jewelry Division, Americas commented: "We're thrilled to present supreme examples of the world's most sought-after jewels and gemstones this season, led by the stunning Fancy Vivid Blue Diamond Ring and the 110.92-carat Round Diamond. Greatly admired for their rarity, these are gems that are enthusiastically pursued by collectors and connoisseurs".