CATALYSTS AND TRENDS FOR THE DIAMOND INDUSTRY IN 2018
Paul Zimnisky highlights some major industry issues he expects for next year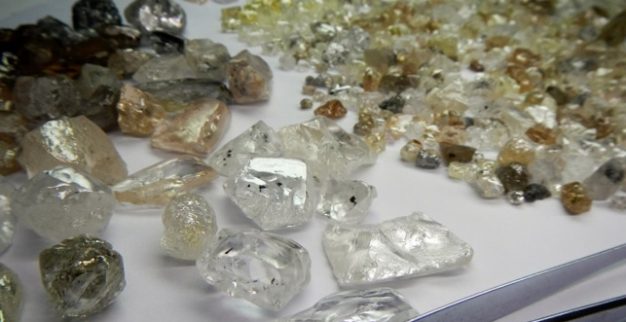 In his 2018 Global Diamond Industry Primer, Paul Zimnisky analyses major trends in 2017 and highlights some major industry issues he expects for 2018. The latest Zimnisky Global Rough Diamond Price Index shows that through mid-December 2017, rough diamond prices are up 2.7% year-to-date, while polished prices are down 3.5%.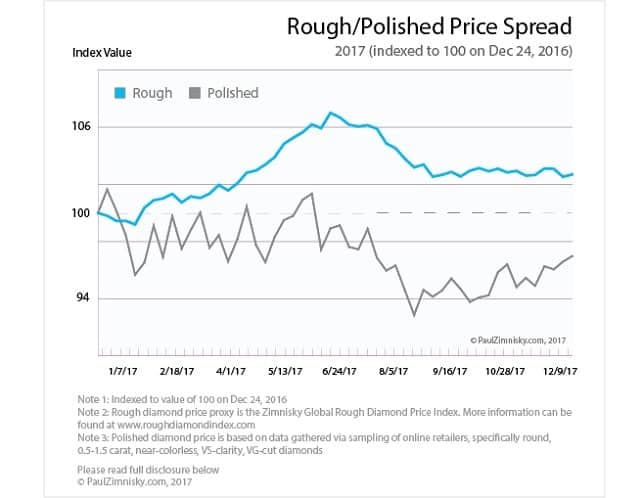 Inventory, Production and Consumption
In 2017, both De Beers and Alrosa have both see their inventories decrease by an estimated 1.6 million and 2.3 million carats, respectively, despite both producers also increasing production this year.
As for production, it is expected to rise to approximately 148 million carats in 2017 – a 7% increase in volume over 2016. The increase, Zimnisky explains, is "mostly due to the commencement of production at three new mines, the ramping-up of production at previously curtailed operations and expansion projects at legacy mines". Additionally, most major miners are still on pace to produce towards the higher end of guidance ranges.
In terms of consumptions, Americans still lead with about 50% of all diamonds consumed in 2017. Greater China and India represent the industry's fastest growing large markets.
2018 Catalysts
Here are some "possible diamond industry catalysts" listed by Zimnisky:
Indian billionaire Anil Agarwal, who is now the largest shareholder of De Beers' parent Anglo American, could make a move to gain control of the company in 2018.
Next year, Alrosa will decide whether to rebuild or close the Mir mine. If closed, the loss of Mir production would offset the combined new supply from Renard and Liqhobong (two of the three mines that commenced production this year).
De Beers' Voorspoed mine in South Africa, Gem Diamond's Ghaghoo mine in Botswana, and previous-Rio Tinto diamond project, Bunder, are all up for sale and could have new owners in 2018.
Lab-created diamond production expected to continue to increase in 2018.
The DPA (Diamond Producers Association) could impact consumer demand following the launch of a second US campaign and first Indian campaign in November 2017 and first Chinese campaign in April 2018.