TOP CELEBRITY ENGAGEMENT RINGS THAT MADE FOR A HAPPY 2018
TOP CELEBRITY ENGAGEMENT RINGS THAT MADE FOR A HAPPY 2018
From Emily Ratajkowski to Ariana Grande: The diamond engagement rings that made us say yes in 2018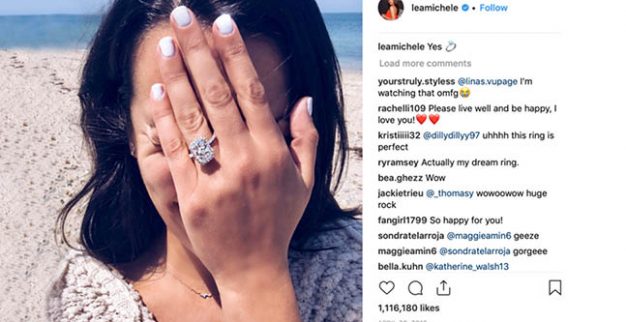 Earlier this week, we were excited to learn that Jennifer Lopez and former professional baseball player Alex Rodriguez are making it official. We were even more thrilled with the singer's diamond engagement ring: an emerald cut stone weighing at least 10 carts, and costing anything between $1 million and $5 million – depending on whose expert advice you ask.
It was a great start for 2019, and a worthy follow up to a blingy 2018. Here are some of the most impressive celebrity engagement rings we were happy to fantasize about last year:
Emily Ratajkowski
Sebastian Bear-McClard proposed to his much more famous girlfriend, supermodel and actress Emily Ratajkowski, with a double diamond engagement ring. The diamonds, a pear-cut and a square cut diamond, are set on in a white gold and and yellow gold band. According to reports, Bear-McClard and Ratajkowski desgined the ring together, going through about 50 sketches until reaching the desired result.
Cardi B
Cardi B's diamond engagement ring from fiance Offset is an on-again-off-again piece of jewellery,not unlike their love story. It is still impressive, though: an 8 carat pear-shaped ring worth, according to the rapper herself, $500,000.
Lea Michele
The beloved Glee star Lea Michele got engaged to Zandy Reich, and immediately went on Instagram to reveal her diamond engagement ring: a rectangular radiant cut stone set in a single, pave diamond band. According to reports, the diamond weighs 4 carats. Jewellery exeprts have estimated its worth at about $100,0000 to $150,000 – impressively modest for a celebrity ring.
Ariana Grande
Ariana Grande's engagement to Pete Davidson was a short affair, and the star has since traded her $100,000 engagement ring for another piece of jewellery. Still, it was blingy enough while it lasted: a big, prominent pear-shaped diamond weighing 3.03 carats, and made by New York City jeweller Greg Yuna.
Hailey Baldwin
Hailey Baldwin's tear-drop diamond ring, given to her by Justin Bieber, is a jaw-dropping $500,000 affair. According to Yahoo Finance, which took an in-depth look at Baldwin's Instagram photos with the help of diamond and jewelry experts, the ring is a double band with an oval-shaped diamond that seems to weigh between 6 and 8 carats.