UNIVERSITY RESEARCHER CREATES LINE OF INTERACTIVE JEWELRY
UNIVERSITY RESEARCHER CREATES LINE OF INTERACTIVE JEWELRY
Katharina Vones, a researcher at Edinburgh Napier University, has designed a line of interactive jewelry - pendants that alter in color and appearance
12.04.2017
Gems and Jewelry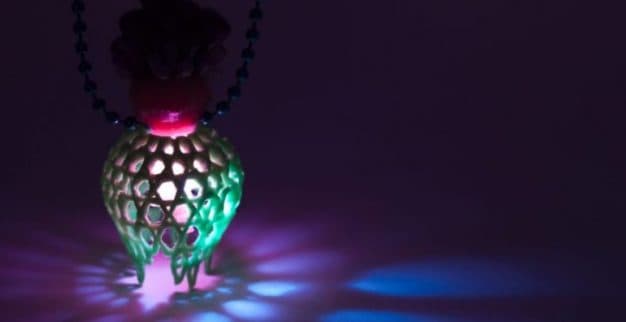 Katharina Vones, a researcher at Edinburgh Napier University, has designed a line of interactive jewelry – a range of pendants that alter in color and appearance in response to certain changes in light, temperature and movement, Jewellery Focus reports.
Vones has just completed her PhD studies "in the use of smart materials for interactive craft", according to the report. Her newly developed "HyperHive" series of pendants aims to produce "playful pieces that will appeal to both children and adults".
The line, which three main pieces include the HyperLight, the HyperTilt and the HyperTouch Pendants, takes its inspiration from "microcosmic images of natural items such as shells and moss". The casings for the pendants have been 3D-printed in biodegradable polylactic acid (PLA) "and are embellished with thermo-chromic silicone shapes that change color in relation to temperature".
All the pendants incorporate light, touch and movement sensors that help the jewelry come "alive when worn", Vones said. The HyperLight, the HyperTilt and the HyperTouch Pendants "pieces react automatically in different environments – with changes in light, movement and even from hot temperatures to colder temperatures triggering the pendants to morph into a different color".
In the university website, Vones says: "My love for jewelry design stems from my time studying in Edinburgh and I've been using silicone in my designs since 2006. I have done work in the past with more traditional materials but I've always been fascinated with 3D design and the idea of adding a sense of playfulness to jewellery and the way it can be designed".
The aim, she says, is "to bring this type of jewelry to a commercial market and to eventually allow both children and adults to build their own using the technology that I've harnessed through my own work. Jewelry and fashion is often chastised for taking itself a bit too seriously so by being innovative and different, I'm hoping to change that".