THE STORY BEHIND OCEAN 8'S CARTIER DIAMOND NECKLACE
THE STORY BEHIND OCEAN 8'S CARTIER DIAMOND NECKLACE
The original "Jeanne Toussaint" Necklace was adapted for Anne Hathaway's proportions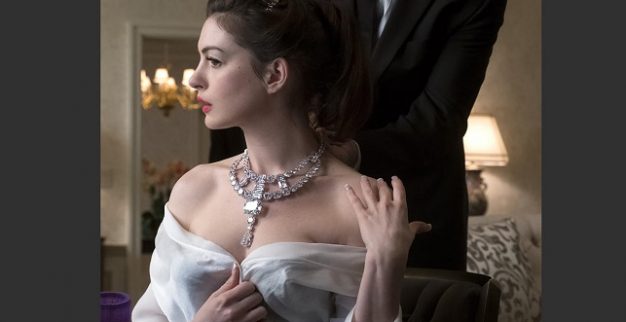 The latest entry in the successful "Ocean's" film franchise, Ocean's 8, gives a feminist touch to the traditionally male-casted franchise with an all-female cast. The film, which combines a crime caper with plenty of laughs and fashion, also has some serious bling behind it. Cartier, which was chosen as the film's exclusive jewelry partner, was asked to create a very specific replica for the film's ultimate heist – the "Jeanne Toussaint" Necklace.
The "Jeanne Toussaint" Necklace
The necklace is a tribute to Jeanne Toussaint, Cartier's Creative Director in the 1930s. According to Cartier, "Toussaint favored Indian style as a source of inspiration amongst others, paying homage to the splendor and opulence of the Maharajas". The original necklace was designed by Jacques Cartier in 1931 for the Maharaja of Nawanagar.
While the jewel no longer exists, Cartier preserved in its archives a design drawing and photographs of the piece. They used the sketch as a reference, and were asked to reconstruct the jewel "in no more than eight weeks".
The necklace, which was initially designed for a man, was adjusted to Anne Hathaway's measurements and reduced by 15% to 20% of the original size. To adapt the jewel to match Hathaway's proportions, dis-mountable bezels were devised.
In the film, the Toussaint is comprised of flawless, colorless diamonds. To create an identical effect on screen, the colored diamonds were replaced with zirconium oxides, a natural material, mounted on white gold as "the necklace had to be solid enough to withstand frequent manipulations during filming". In addition, special attention was paid to the finishing of the settings and polishing, "as close-ups would not allow for any imprecisions".
In addition to the famous necklace, Cartier was also the exclusive on-site jeweler during filming, loaning pieces to actors making cameo appearances in the movie. Pieces loaned ranged from Cartier Collection to current New or High Jewelry, as well as watches and accessories.