THE JANE SEYMOUR DINING EXPERIENCE
Russian diamond company World of Diamonds is now offering one lucky couple the most expensive dining experience in the world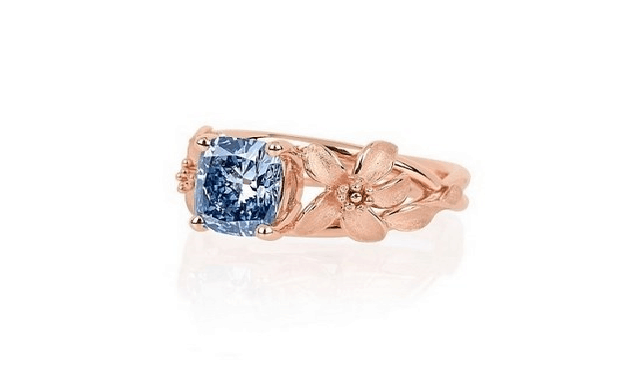 Owning an extremely rare, 2.08-carat Fancy Vivid Blue diamond, apparently, is no longer enough: Russian diamond company World of Diamonds is now offering one lucky couple the most expensive dining experience in the world, complete with a "gift" to top the evening – a 2.08-carat Fancy Vivid Blue diamond, set in an 18-karat rose-gold-plated platinum ring, called "The Jane Seymour".
This is what World of Diamonds, established in 2001 and now one of the largest privately help diamond corporations in the world, is offering the happy couple who can spare $2 million dollars: a full-day. 8-hour retreat that starts with a 45-minute private helicopter tour over Singapore, continues with a chauffeured Rolls-Royce drive and a private luxury cruise, and to end the perfect day: an 18-course meal served at Ce' La Vi restaurant, in a setting showered with 10,000 roses and a 360-degree view of Singapore. Then, at midnight, a fireworks display, and the offering of the Jane Seymour Diamond.
Ce' La Vi is situated on the rooftop of Marina Bay Sands hotel in Singapore. The meal will consist of Belon oysters, Almas caviar and 55-year-old wine, among other luxury items – including diamond-studded chopsticks.
The 2.08-carat cushion-cut Fancy Vivid Blue diamond ring was named the "Jane Seymour" in honor of the iconic Bond girl in "Live and Let Die", during her visit to Singapore in June. It is the only celebrity ring in the world named after Seymour herself, and was created to celebrate the actress' accomplishments in the film industry. Seymour has won an Emmy Award, two Golden Globe Awards and a star on the Hollywood Walk of Fame.
Of all the naturally colored diamonds, blue diamonds are among the rarest. Their color is caused by the presence of boron impurities; the more boron in the stone – the deeper the blue. Blue diamonds are highly coveted, and some blues have fetched staggeringly high prices at auctions in recent years. For instance, in May 2016, "The Oppenheimer Blue" sold for $57.5 million at Christie's in Geneva. In April 2016, a 10.10 carat oval-shaped fancy vivid blue diamond broke all auction records in Asia when it was sold by Sotheby's for $31.8 million. In the first quarter of 2016, fancy blue diamond prices rose by 1.7% – the highest increase among naturally colored diamonds. The strongest performing price categories were fancy intense blue and fancy vivid blue across all carat sizes.