ANALYSIS: DIAMOND INDUSTRY "OUT OF BALANCE"
Edahn Golan analyses the current state of the diamond industry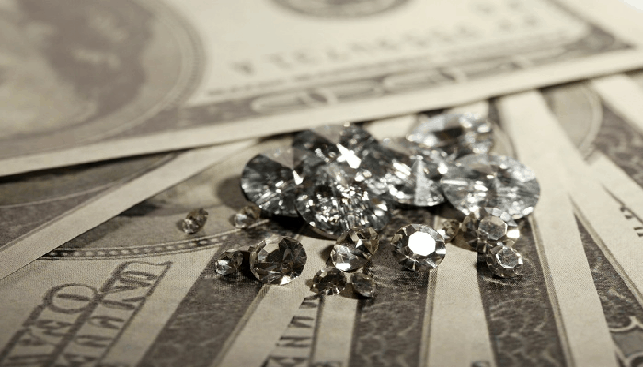 A new article published by Edahn Golan Diamond Research & Data analyses the current state of the diamond industry, including an in-depth look at inventories, demand, and the prices of natural and lab-grown diamonds (LGDs).
Golan, a veteran of the diamond industry, starts by stating that "the diamond industry is out of balance" as rough diamonds "only partially fit current consumer demand" and prices of large lab-grown goods have fallen dramatically in the first quarter of 2019.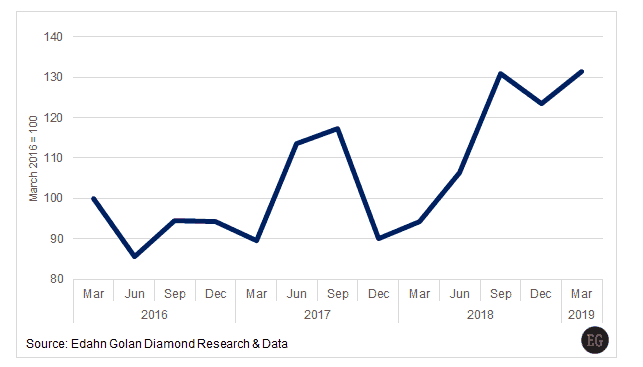 Inventories and Demand
According to Golan, the overall rise in inventory levels in Q1 2019, especially of round-shaped polished diamonds, has added to "an already ongoing buildup in polished diamond stocks". According to his research, inventory levels rose nearly 40% year-over-year, an unsurprising consequence stemming from "weakening demand". Demand has expanded to a wider range of goods, but overall demand has fallen both quarter-over-quarter and year-over-year.
There is "glaring" imbalance, Golan says, between demand and availability. Except for the 0.18–0.22-carat, 2-carat and 4-carat size ranges, where inventories declined against demand, and quarters, where demand and inventory were balanced, all other size ranges have been suffering from over-supply. Meanwhile, there are long-term shortages in certain goods. This means that "manufacturers are tying up capital in goods that will need to be discounted […] while struggling to secure rough diamonds for desired items".
The reasons for these trends, Golan says, are not only "narrow consumer demand versus the wide run-of-mine production and limited flexibility in buying rough diamonds", but also the problem of understanding demand trends and which goods to line up.
Prices of Lab-Grown Diamonds
The synthetics market has seen a quick rise in production, but in reality, there were fewer purchases of smaller goods than expected in Q1 2019. According to the Edahn Golan LGD Price List, transaction prices of smaller LGDs (0.23–0.89 carats) were stable in Q1 2019, except for J-M color/SI1-I clarity goods, which fell 6–11% quarter-over-quarter.
In addition, there's been a growing supply of 0.90–0.99-carat HPHT goods at the expense of CVD goods, which led to a "7.4% decline in the overall average wholesale prices of the 0.90–0.99-carat size range".
In this market, too, there is an issue of rising supplies and weaker than expected demand. Traders were left with large inventories, especially of 1-carat and above, mainly CVD produced. Consequently, prices of 1-carat LGD dropped 20.3% on average quarter-over-quarter, wholesale prices of 1.5-carat goods fell 15.8% during the period, and 2-carats declined 9%.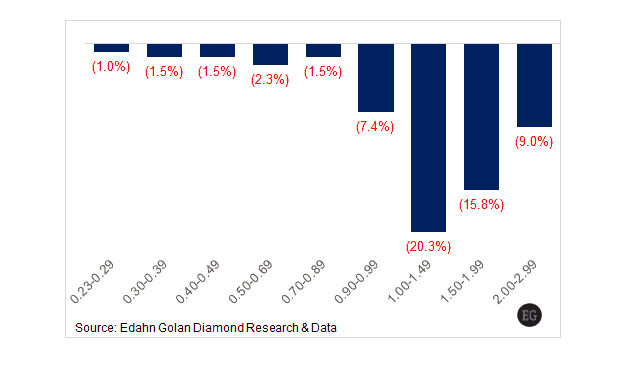 One other trend in the synthetics market is a growing demand for top items, driving more traders to offer triple excellent LGDs. Prices for "the very top color/clarity goods" were higher in Q1 2019 than in Q4 2018, while prices of the lowest color/quality goods fell by half.
When comparing to transaction prices of natural diamonds, prices of LGDs were 65%-84% lower on average.
Read the full article here.