ANALYST: DIAMOND INDUSTRY CHALLENGES "FROM OVER SUPPLY"
Diamond analyst Paul Zimnisky looks at the current conditions in the diamond industry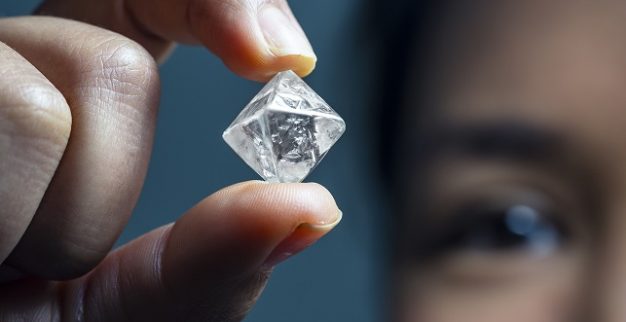 A recent article published by diamond analyst Paul Zimnisky looks at the current conditions in the diamond industry in an attempt to pinpoint the factors contributing to what some insiders are dubbing as "a crisis in the industry".
The Challenges
Zimnisky begins by scanning some of the big miners' recent financial performances, such as De Beers' (rough diamond sales are down 17% year-to-date through June compared to the same period last year), Alrosa's (sales are down 33% during the same period), and the Zimnisky Global Rough Diamond Price Index, which shows rough diamonds are down 2.3% year-to-date as of July 20.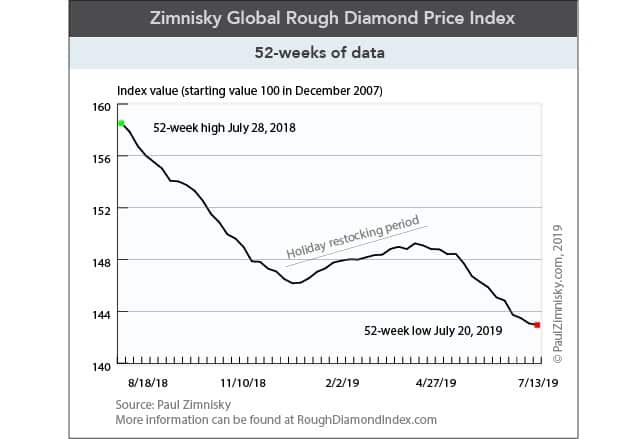 He then goes on to describe the myriad of challenges in the industry, from "high inventory levels throughout the pipeline" through "a continued deleveraging of the mid-stream sector [and] reduced manufacturing credit availability" to "uncertainty surrounding the proliferation of man-made diamond jewellery and weak downstream sentiment related to macroeconomic and geopolitical factors". In addition, he says, global rough diamond production is estimated to incrementally fall annually through at least 2021.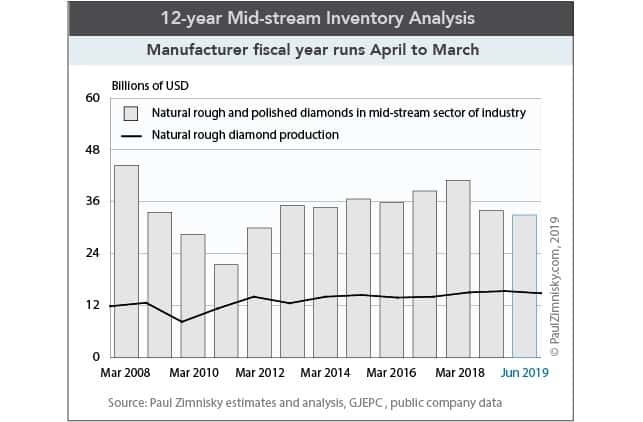 The Light(s) at the End of the Tunnel
However, not all is bleak: According to Zimnisky, the future of global end-consumer diamond demand shows that "growth, while not great, still appears positive […]". This is evidenced by several factors. First, the largest jeweler in the world, Tiffany & Co., which is a proxy for the global market, is guiding a sales increase of a "low-single-digit percentage" in the fiscal year ending January 2020. Second, the US, representing the industry's largest end-consumer market for diamond jewellery at approximately 50%, "continues to benefit from a stock market that is at all-time highs". In addition, it must be remembered that year-to-date, US retail sales are up 3.4% year-over-year.
In other markets there are also signs of improvement. For example, in China, Chow Tai Fook opened 549 new stores in the fiscal year ended on March 31 – the most new store openings in a fiscal year in the company's history; and in India, a Forevermark company representative recently said that revenue in the market increased 36% year-over-year in the first half of 2019.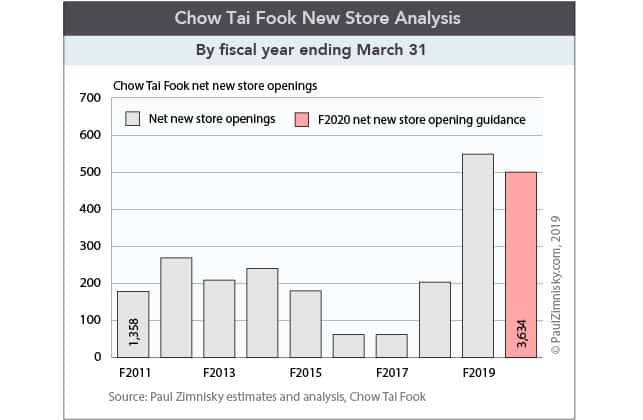 Lastly, Zimnisky says, "while overall industry sentiment is dire at the moment, the current challenges are seemingly more deeply seated in oversupply than a lack of end-consumer demand, which is arguably a more manageable task for the industry then vice versa".