How the Diamond Business is Coping with the Coronavirus Effects
Diamond analyst Edahn Golan is cautiously optimistic about consumer spending on diamond jewellery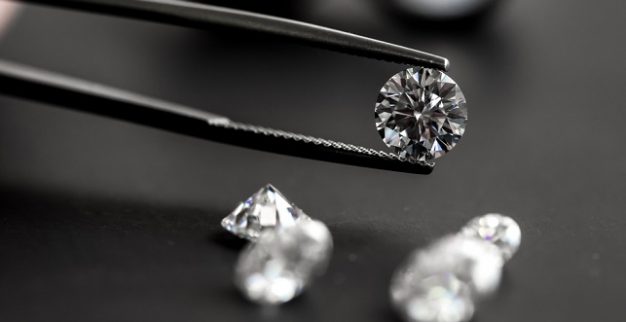 A recent article published by Edahn Golan Diamond Research & Data analyses how the global diamond business is coping with the continued repercussions of the coronavirus – from rough supply to diamond jewellery trade. Here are some of the article's salient points.
Polished Diamond Prices Keep Sliding
Polished diamond prices declined an estimated 1.4% in July, and 1.6% on average since February. According to Golan, "wholesale diamond prices declined in every single key category, with one exception: half-carat goods rose a small 0.4%".
Although historically, consumer demand tends to rise in August due to tourism traffic, this summer has brought international travel to a record low. Without tourists shopping in the US, says Golan, "total retail sales are expected to shrink further this year".
Diamond Prices Continue to Drop
Despite the fact that wholesale diamond prices of most items have been declining since February 2019, underlying issues have led to much longer-term price declines, such as: "the lack of attractive marketing, slow response to the shift in consumer demand, and lack of attentive care of consumers that resulted in growing interest in lab-grown diamonds".

US Jewellery Sales Drop
While total jewellery sales rose 1.9% year-on-year and 13.2% month over month in June, US jewellery business shrank 14.9% in the first half of 2020. In addition, "share of wallet" – the percentage of consumer expenditure on a certain category – has also declined for jewellery.
In 2006, jewellery share of wallet was 0.7%. Since then, it slowly declined to 0.5% in 2019. In the first half of 2020, jewellery share of wallet fell to 0.45%.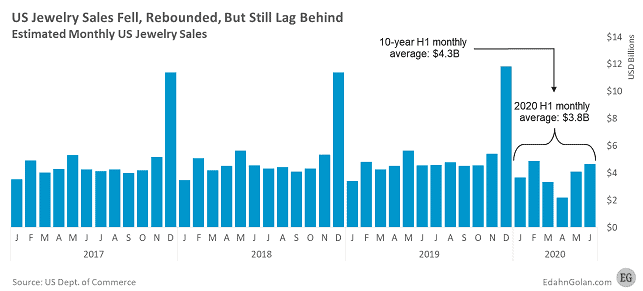 Diamond Business Outlook
Golan's forecast is cautiously optimistic: Consumers are returning to spend, and, despite raging unemployment, "weddings will still be held and bridal jewelry will still be purchased".
Golan adds: "Once consumers start buying, it will start a chain reaction. Retailers will pull goods from wholesalers which, in turn, will start up polishing and buying rough diamonds, and mining will resume. Order restored, sort of".
Read the full article here