Five Celebrity Engagement Rings that Made A Huge Online Splash
From Paris to Kim: Five engagement rings that drove the internet wild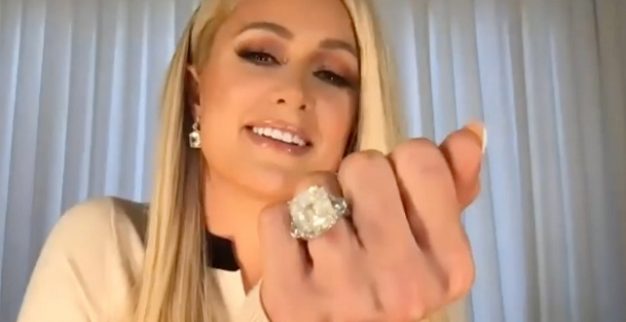 Celebrities, as we all know, are different from us. Everything they do – from a new hairdo to a new boyfriend – sets the internet ablazing, sometimes for days. When they announce their engagement, whether it's their first, second or fourth time around, everything about it gets prodded and dissected – and especially the new, shiny bling they flaunt. Here are five of the most stunning, buzz-worthy diamond engagement rings.
Paris Hilton
Paris Hilton's boyfriend, millionaire businessman Carter Reum, popped the question against the romantic backdrop of a tropical beach, and the ring didn't disappoint, either: Reum presented Hilton with a diamond ring designed by Jean Dousset, the great-great-grandson of Louis-Francois Cartier.
According to reports, the new ring, dubbed "Paris", has a 10 to 20-carat emerald-cut center diamond, two shield-cut diamonds, and small pavé diamonds on the prongs and at the base. The ring is estimated to be worth at least $1 million.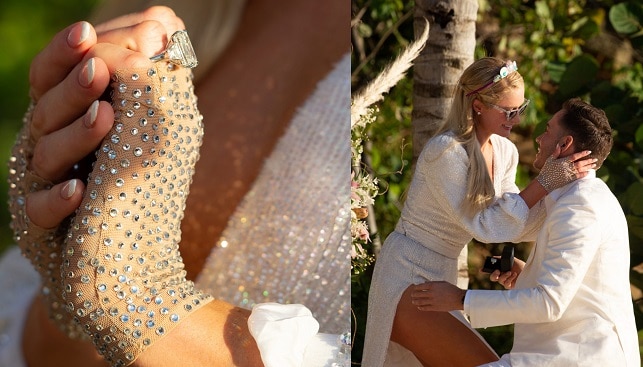 Kim Kardashian
Kim Kardashian's $4.2 million engagement ring, given to her by then partner Kanye West, was huge news when the couple became engaged in 2013. Three years later, in 2016, West gifted his wife with a $4.5 million emerald-cut ring.
Both rings, designed by Lorraine Schwartz, were stolen later that year in a violent robbery in Paris. Since then, Kardashian has been seen walking around with a replica created for her by the same designer.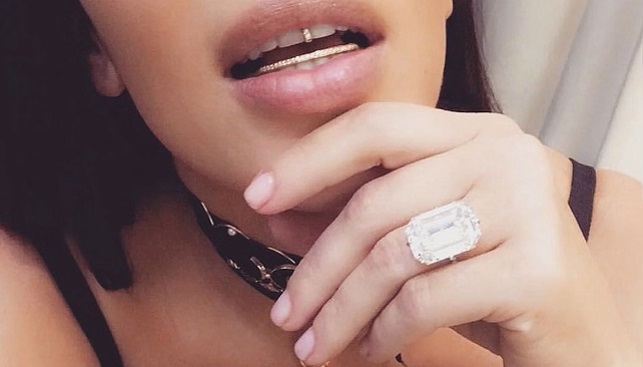 Britney spears
Britney Spears and Sam Asghari became engaged this September and, true to form, the 39-year-old singer told the world about the happy news while flashing her ring finger to the world.
Spears and Asghari met on the set of Spears' "Slumber Party" music video in 2016 and have been dating since. Spears modeled the ring in a video compilation while Asghari shared the news on his own Instagram account with a romantic and somewhat controversial picture.
According to People.com, Spears' engagement ring features a 4-carat, round-cut stone with a platinum cathedral setting on a plain silver band, with the word "Lioness" engraved on the inside of the band. The ring was designed by Forever Diamonds NY's jeweler Roman Malayev.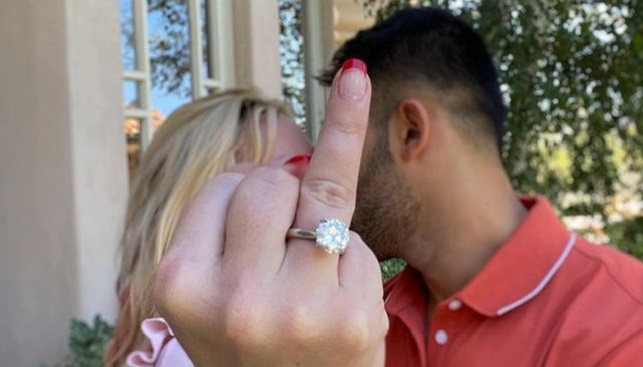 Jennifer Lopez
In March 2021, Jennifer Lopez and former professional baseball player Alex Rodriguez announced their engagement – and the world listened. Lopez showed off her engagement ring on Instagram with the caption "She said yes", causing a flourish of speculation over its worth.
The ring features a colorless emerald cut stone – a cut popular with other A-listers such as Beyoncé, Angelina Jolie, Kate Hudson and Kim Kardashian. According to jewellers interviewed by several lifestyle magazines, from Cosmopolitan to Town and Country Magazine, it weighs between 10 and 15 carats, and is estimated at a minimum of $1 million and up to $5 million.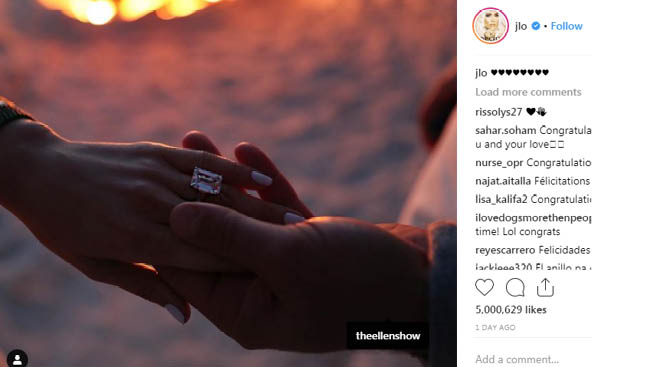 Meghan Markle
Meghan Markle and then Prince Harry made their engagement known in November 2017. Naturally, the ex "Suits" actress' huge sparkler made instant news: designed by Harry himself, the yellow gold ring features three diamonds – a central stone from Botswana and two others from the collection of the prince's mother, Princess Diana. The ring was made by Cleave and Company, official jewelers to Queen Elizabeth II. The ring is yellow gold, which is Markle's favorite, according to Prince Harry. Reportedly, it took six months to design.
In 2019, following the birth of the couple's son, Archie, in May, it was evident that Markle "secretly" added more bling to her engagement ring. Reports about the revamped engagement ring started to pour in when Markle attended the "Trooping the Colour" parade earlier in June – her first official appearance since the couple introduced Archie to the world. The revamped ring was reset by celebrity jeweler Lorraine Schwartz. The original simple band was replaced with a thin, yellow gold band set with micro-pavè diamonds.