GOLD RING AND NECKLACE DISCOVERED HIDDEN IN MUG AT AUSCHWITZ MUSEUM
The women's ring and the chain of a necklace wrapped in a piece of canvas contain gold from products produced in Poland in the years 1921-1931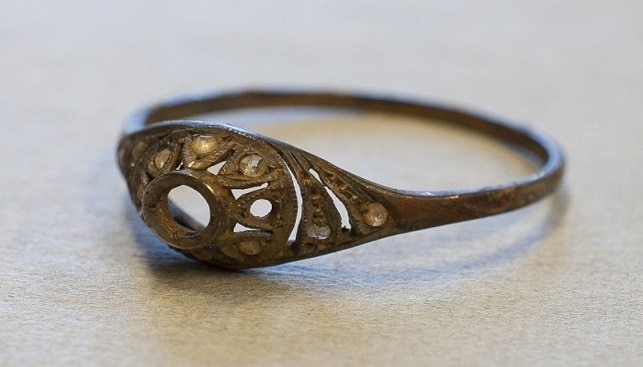 Uschwitz Museum staff have discovered a mug with a double bottom hiding a gold ring and a necklace, according to a press release from the museum. The women's ring and the chain of a necklace wrapped in a piece of canvas contain gold from products produced in Poland in the years 1921-1931. The jewelry pieces were subjected to specialist tests, including x-rays, which proved the presence of the metals copper, gold and silver.
"During the works to secure the enameled kitchenware located at the main exhibition, it turned out that one of the mugs has a double bottom. It was very well hidden, however, due to the passage of time, the materials underwent gradual degradation, and the second bottom separated from the mug," explains Hanna Kubik of the Memorial Collections.
"The Germans incessantly lied to the Jews deported for extermination. They were told about resettlement, work and life in a different location. They allowed the victims take with them little luggage. In this way, the Germans were confident that in the luggage – including clothes and items needed for life – they would find the last valuables of the deported families," notes Auschwitz-Birkenau State Museum Director Dr. Piotr M. A. Cywinski.
The jewelry found in the mug will be stored in the Collections of the Museum in the form reflecting the manner in which it had been hidden by the owner, as a testimony to the fate of the Jews deported to the German Nazi concentration and extermination camp, concludes the press release.