JOVELLA INTERNATIONAL JEWELRY EXHIBITION TO BE HELD IN TEL AVIV JULY 4 – 5, 2016
The 13th edition of JOVELLA, Israel's international jewelry and diamond exhibition will be held on July 4 – 5, 2016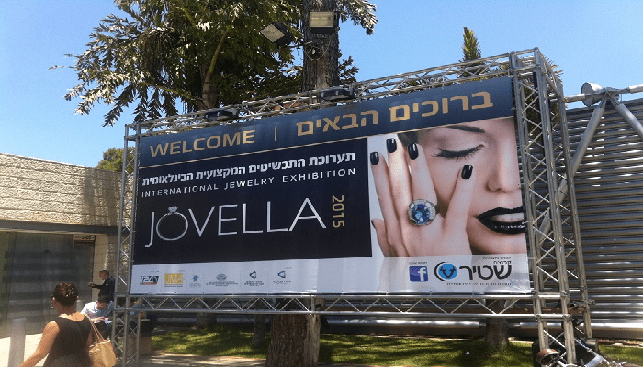 Tel Aviv, June 6, 2016: The 13th edition of JOVELLA, Israel's international jewelry and diamond exhibition will be held on July 4 – 5, 2016. This year the show will be returning to its original location at the David Intercontinental Hotel in Tel Aviv, after having been located at Tel Aviv's Trade Fairs and Convention Center since 2007.
JOVELLA, the leading event of the jewelry industry in Israel, offers both domestic and foreign buyers an opportunity to explore Israel's diamond and jewelry industries, and to meet some of the most innovative designers and manufacturers in the country.
The 13th exhibition will include over 100 exhibitors from Israel and abroad, showing loose diamonds, gemstones, gold jewelry, silver jewelry and fashion jewelry. The show will feature a special section of young Israeli jewelry designers, many of them graduates of Israel's leading design schools. In the past JOVELLA has attracted thousands of trade visitors from Israel and abroad, including buyers, retailers, journalists and special guests.
This year the exhibition will feature two professional conferences. The 1st Conference for Jewelry Designers in Israel, organized in conjunction with Shenkar College, will be held on July 4 and will feature lectures by experts in design, technology and marketing. The 2nd Annual Conference for Jewelry Retailers, organized with the Israel Jewelry Manufacturers Association, will be held on July 5, and will include diamond and gem experts, designers and retail specialists.
Israeli jewelry is known for fresh and trendy designs, excellent quality and attractive pricing. These advantages have enabled Israel's jewelry industry to make significant inroads into international markets. The United States is the Israeli jewelry industry's largest export market, followed by Europe and the Far East. Besides the US, Israel's jewelry is exported to Russia, England, Hong Kong, Canada, Belgium, Italy, Spain, France, Japan and other locations.
The exhibition is being organized by the Stier Group, in collaboration with the Israel Jewelry Manufacturers' Association (IJMA), the Israel Ministry of Economy, the Israel Export and International Cooperation Institute, and the Israel Diamond Institute Group of Companies (IDI).