MAJOR ISRAELI DIAMOND DELEGATION HEADED TO JUNE HONG KONG
MAJOR ISRAELI DIAMOND DELEGATION HEADED TO JUNE HONG KONG
The Israel Diamond Institute Group of Companies (IDI) will host 67 companies in an expanded diamond pavilion at the June Hong Kong Jewellery & Gem Fair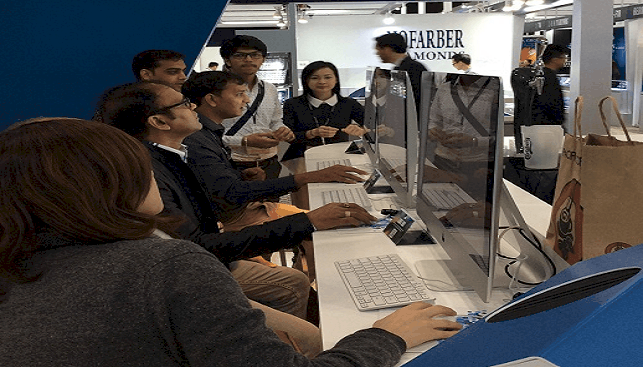 Ramat Gan, Israel, June 15, 2015: The Israel Diamond Institute Group of Companies (IDI) will host 67 companies in an expanded diamond pavilion at the June Hong Kong Jewellery & Gem Fair, which will take place from June 25-28, 2015 at the Hong Kong Convention & Exhibition Centre. In addition, 10 Israeli companies will be exhibiting in other locations throughout the show.
The Israel Diamond Pavilion, which has been redesigned to reflect IDI's high-tech theme, extends over 1,000 square meters. It is located in the diamond area in Halls 3BC and Concourse. Once again IDI's Find Your Diamond system, enabling a search of all Israeli exhibitors' offerings at the show, will take a central place within the pavilion. Three Find Your Diamond units will be located in the Israel pavilion's central lounge, which will serve drinks and refreshments throughout the day.
To make diamond buying from Israel even more efficient IDI's Find Your Diamond system www.findyourdiamond.net is going live today. This enables buyers to search the full stocks of all of the close to 100 Israeli companies who will be exhibiting in the Israel Diamond Pavilion and elsewhere in the show. Buyers will be able to pre-request diamonds they are interested in, ensuring that exhibitors will bring them to the show. In addition to allowing buyers to plan in advance, they will have access to the exhibitors' full stocks. At the Hong Kong show, the Find Your Diamond system will enable searches of only those goods that Israeli exhibitors have brought with them.
In addition, IDI has launched a special website for Hong Kong June with full details of all the Israeli companies participating in the show, with background and contact information; a map of the Israel Diamond Pavilion; interactive images of actual diamonds offered by these companies and in-depth interviews with a few of the exhibiting companies.
Asia is Israel's second largest market for polished diamonds representing about 35 % of total polished diamond exports, with the greatest share going to Hong Kong. Last year Israel's polished diamond exports to Hong Kong totaled $1.8 billion. Israel is also a major supplier of polished diamonds to China, India, Thailand, Singapore, Taiwan, Japan and other Asian markets.
IDI Managing Director Eli Avidar said, "Asian markets, and especially Hong Kong, are very important targets for our industry. IDI now organizes large national diamond pavilions at four trade shows in Hong Kong annually — in March, June, September and November. We have invested great efforts at making Israeli diamantaires accessible to buyers. The Find Your Diamond feature has proven to be a real winner for both buyers and exhibitors".
Avidar said that IDI's office in Hong Kong has been instrumental in furthering business between the two counties. He added that IDI's Chinese-language diamond portal site , the only one of any diamond center, enables direct contacts between the Israeli industry and the region.