CHRISTIE'S TO AUCTION 163.41-CARAT DIAMOND NECKLACE
CHRISTIE'S TO AUCTION 163.41-CARAT DIAMOND NECKLACE
Christie's to highlight "the largest D colour, flawless diamond ever to come to auction"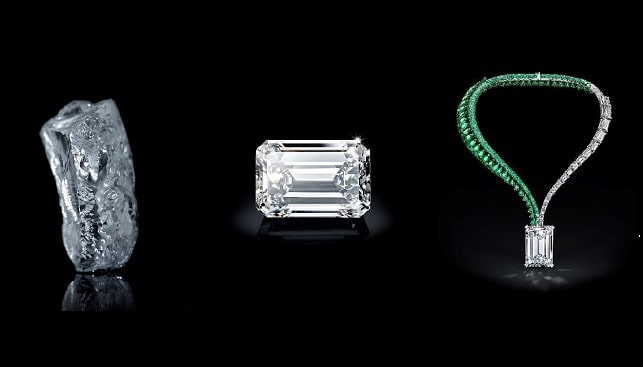 Christie's upcoming auction in Geneva will feature "The Art of de GRISOGONO", including a necklace created by the Swiss jeweler, suspending a 163.41-carat, D colour, flawless, IIA type diamond – "the largest D colour, flawless diamond ever to come to auction", according to a press release. de GRISOGONO will celebrate its 25th anniversary this year.
The 163.41 carat stone was cut from a 404 carats-rough, which was discovered in early February 2016 in the Lulo mine in Angola. According to Christie's, the "4 de Fevereiro" rough is the 27th biggest rough white diamond ever discovered, and the largest in Angola. The rough was cut in New York by a team of 10 diamond-cutting specialists. The necklace took over 1700 hours to create and involved a team of 14 craftsmen.
Rahul Kadakia, International Head of Christie's Jewels, commented: "Over our 251 year history, Christie's has had the privilege of handling the world's rarest and most historic diamonds. The sensational 163.41 carat perfect diamond suspended from an elegant emerald and diamond necklace propels de GRISOGONO into a class of their own".