HARRY WINSTON BUYS THE "PINK LEGACY" DIAMOND FOR $50 MILLION
HARRY WINSTON BUYS THE "PINK LEGACY" DIAMOND FOR $50 MILLION
Christie's: This is "the Leonardo Da Vinci of diamonds"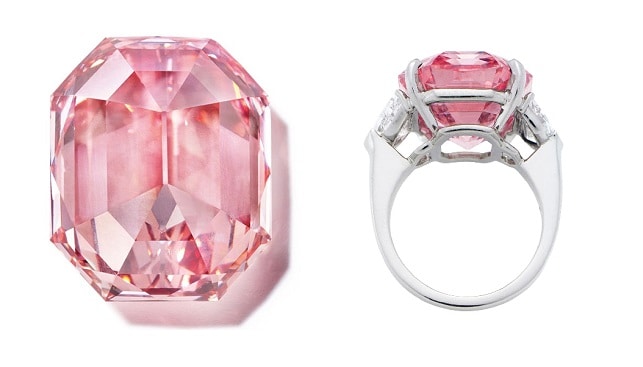 US jeweller Harry Winston purchased a 18.96-carat Fancy Vivid Pink diamond, called the "Pink Legacy", for a record 50.375 million CHF (approximately $50 million) at Christie's Magnificent Jewels auction in Geneva yesterday (November 13).
According to Mining Weekly, the auction raked in a total of $110 million, with 86% of lots sold. 11 lots were sold for more than $1 million. Francois Curiel, chairman of Christie's, commented: "The Pink Legacy brought this extremely high price of $50 million, so $2.6 million per carat which is a world record price for a pink diamond. This stone for me is the Leonardo Da Vinci of diamonds, I don't think there is anything better".
The stone, promptly renamed The Winston Pink Legacy by its new owners, received a Fancy Vivid colour grading from the Gemological Institute of America (GIA). While most pink diamonds of this colour weigh less than one carat, the sheer size of the diamond, mounted on a platinum ring, is extremely rare. Rahul Kadakia, international head of Jewelry at Christie's, added: "To find a diamond of this size with this colour is pretty much unreal. You may see this colour in a pink diamond of less than one carat. But this is almost 19 carats and it's as pink as can be. It's unbelievable".