MCDONALD'S OFFERS $12,500 DIAMOND RING ON VALENTINE'S CONTEST
MCDONALD'S OFFERS $12,500 DIAMOND RING ON VALENTINE'S CONTEST
McDonald's has found an original way to boost its brand on Valentine's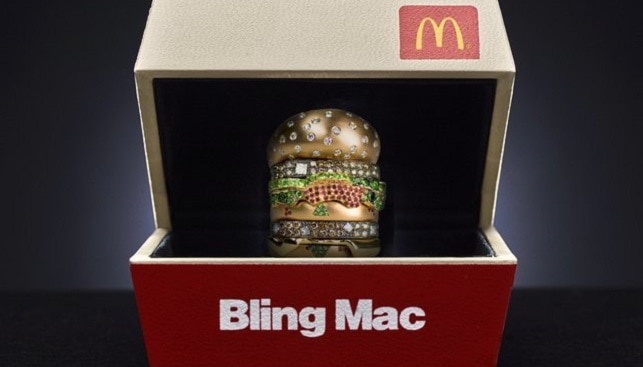 Valentine's Day is fast approaching, and giant fast-food chain McDonald's has found an original way to boost its brand: According to multiple news sources, McDonald's is offering a $12,500 "Bling Mac" ring for the fan who will tweet their "best, most creative vows of Big Mac burger love" to @McDonalds, under the hashtag #BlingMacContest.
The contest, which runs February 7-14, will reward the wittiest tweet with an 18-karat ring encrusted with champagne diamonds, orange sapphires and "other diamonds and sapphires", according to McDonald's. The ring looks like a typical burger, complete with buns, beef, sauce, lettuce, cheese, pickles and onion, but it's best not to try to eat it.
The designer of the unique "Bling Mac" ring is fine jewelry designer Nadine Ghosn, who has already designed a Burger Ring of her own: an 18-karat rose gold, white gold and yellow gold ring with runny, tsavorite, sapphire, and champagne diamond details. On her website, Ghosn sells the ring for $8,800.