OSCARS: LADY GAGA WOWS IN HUGE, RARE TIFFANY DIAMOND
OSCARS: LADY GAGA WOWS IN HUGE, RARE TIFFANY DIAMOND
Gaga hit the red carpet wearing a necklace featuring a 128.54-carat Tiffany & Co diamond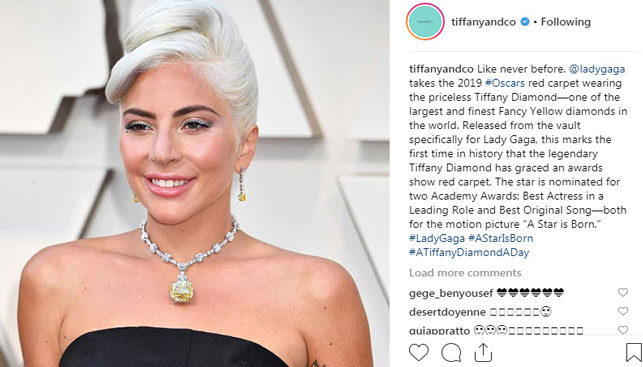 Lady Gaga has had an Oscar night to remember. Not only was her "Shallow" duet with Bradley Cooper received with worldwide enthusiasm, but she also took home the Academy Award for Best Song. Her buzz-worthy Oscar night started much earlier, though, as she walked the Red Carpet sporting an eye-grabbing piece of diamond jewellery.
Gaga hit the red carpet wearing an Alexander McQueen gown, but all eyes were on her neck, and her necklace, which featured a 128.54-carat Tiffany & Co diamond. Named "The Tiffany diamond", the rare stone was last worn by Audrey Hepburn in 1962 for publicity posters for Breakfast At Tiffany's. It was worn only once before that, by Mrs. E. Sheldon Whitehouse at the 1957 Tiffany Ball held in Newport, Rhode Island. Lady Gaga was the third person to ever wear it.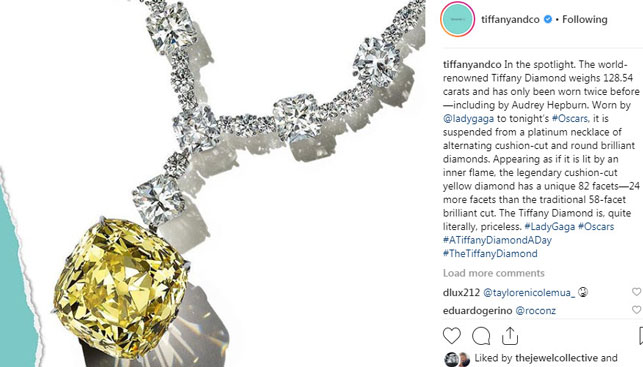 "The Tiffany diamond" was unearthed in South Africa in 1877, weighing a staggering 287.42 carats. It was purchased by Charles Lewis Tiffany in 1878 for $18,000. The rough was then polished into into a cushion-cut with 82 facets (24 more facets than is customary in a round brilliant), weighing 128.54 carats in its polished form. Since then, it has been showcased at jewellery shows and exhibitions around the world. It was never sold, and it is estimated to be worth $30 million.