ROCKEFELLER EMERALD BREAKS AUCTION RECORD PER CARAT
ROCKEFELLER EMERALD BREAKS AUCTION RECORD PER CARAT
Christie's sold the Rockefeller Emerald for $5,511,500 - setting a record of $305,000 per carat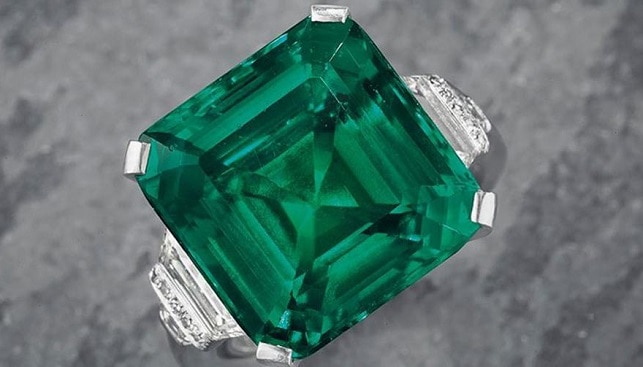 A record was broken this week at Christie's New York Magnificent Jewels (June 20), when the Rockefeller Emerald, sold to Harry Winston, went for $5,511,500. This set a new world auction record per carat of $305,000, according to IDEX Online.
In a statement, Christie's said that Harry Winston CEO Nayla Hayek "gave instructions to 'bring this magnificent gem home at any price'". All in all, the auction raked in $26,126,500, "with 83 percent sold by lot and 89% by value".
Tom Burstein, Christie's US Head of Jewelry, said: "The historic Rockefeller Emerald and museum-level collections of Louis Comfort Tiffany and Cartier objects, formed the core of what was a truly a Magnificent Jewels auction. The record prices achieved by the Rockefeller Emerald and Fancy Deep Grayish Bluish Green diamond coupled with competitive bidding for signed jewelry underscores the strength in the market for pieces of the highest quality. Our jewelry team is proud to finish the first half on such a strong note and we look forward to the fall sales season".