109.8-CARAT SAPPHIRE NECKLACE SELLS FOR $15 MILLION
109.8-CARAT SAPPHIRE NECKLACE SELLS FOR $15 MILLION
The "Peacock Necklace" features 21 Kashmir sapphires and and weighs 109.08 carats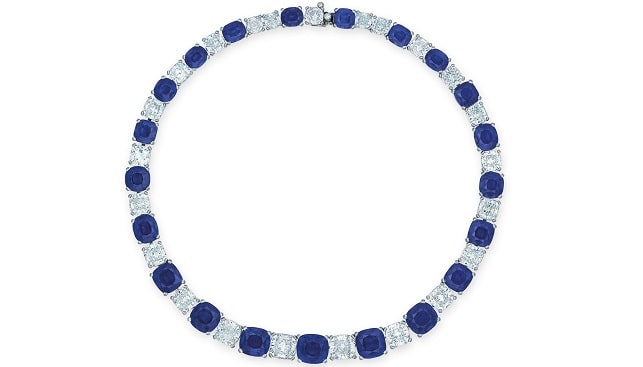 At the Hong Kong Magnificent Jewels auction, held by Christie's yesterday (November 27) in Hong Kong, the auction house raked in HKD 116,537,500 ($14,884,752) from the sale of the "Peacock Necklace" – a necklace of 21 Kashmir sapphires, weighing a total of 109.08 carats.
According to Christie's, the rare necklace took "more than 15 years to complete". It features 21 well-matched sapphires which took years to cut and polish. It took nine months alone, according to the auction house, "to engrave the peacock-feather patterns onto the platinum mounting".
Another buzz-worthy item sold was the Moon of Baroda – a 24.04-carat pear-shaped, Fancy Yellow diamond worn by Marilyn Monroe when she sang "Diamonds Are a Girl's Best Friend" while promoting the 1953 classic film Gentlemen Prefer Blondes. Christie's sold the diamond for $1.3 million – almost double its high estimate of $750,000.
All in all, Christie's raked in HKD 470,215,000 (about $60 million) from the sale.