SOTHEBY'S TO AUCTION "MOST VALUABLE PAIR OF DIAMOND EARRINGS EVER"
SOTHEBY'S TO AUCTION "MOST VALUABLE PAIR OF DIAMOND EARRINGS EVER"
Sotheby's spring sale of jewels in Geneva in May will be led by the 'Apollo and Artemis Diamonds' - "the most important earrings ever to appear at auction"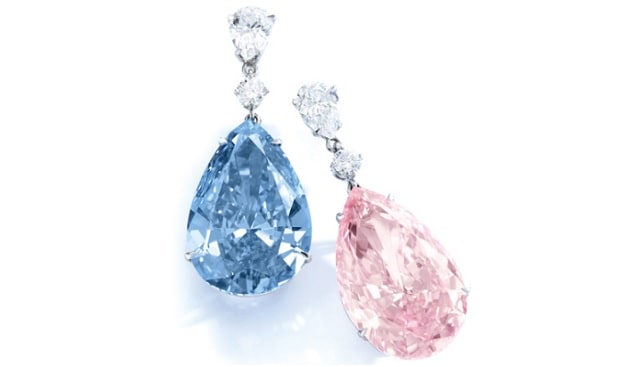 Sotheby's spring sale of Magnificent Jewels and Noble Jewels in Geneva in May will be led by the 'Apollo and Artemis Diamonds'. According to Sotheby's, these are "the most important earrings ever to appear at auction" as well as the most valuable, and could fetch close to $70 million.
The Apollo and Artemis earrings feature one Fancy Vivid Blue and one Fancy Intense Pink diamond. They will be offered separately as individual lots. The Apollo Blue weighs 14.54 carats, and is the largest Internally Flawless Fancy Vivid Blue diamond ever to be offered at auction. It will be presented with an estimate of $38 – $50 million. The Artemis Pink weighs 16 carats and is estimated to fetch between $12.5 – $18 million.
David Bennett, Worldwide Chairman of Sotheby's International Jewellery Division, said: "The Apollo and Artemis Diamonds' will be the stars of our May sale in Geneva – by far the most important pair of earrings ever offered at auction. These exquisite coloured diamonds are enormously rare and each is a wonderful stone in its own right. Together, as a pair of earrings, they are breathtaking. We have named them after Apollo and Artemis, a twin brother and sister of great power and beauty who were among the most widely venerated of the Ancient Greek deities".