SOTHEBY'S TO AUCTION FRANK SINATRA'S ENGAGEMENT RING
SOTHEBY'S TO AUCTION FRANK SINATRA'S ENGAGEMENT RING
Sinatra gifted the 20.60-carat, emerald-cut diamond ring to his then fiancee in 1976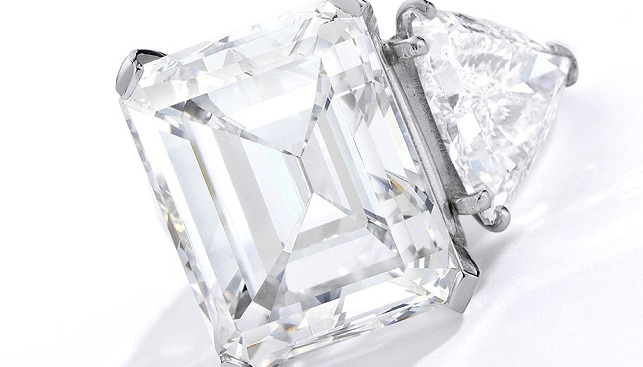 On December 6, Sotheby's will hold a special auction: Called "Lady Blue Eyes: Property of Barbara and Frank Sinatra", the sale will include 26 items belonging to famed singer Frank Sinatra and his wife of 22 years, Barbara. The collection includes pieces of jewelry, film and entertainment mementos, fine art, furniture and more.
Among the highlighted lots is Barbara Sinatra's diamond engagement ring. Sinatra gifted the 20.60-carat, emerald-cut diamond ring to his then fiancee, Barbara, in 1976. Other jewelry pieces in the auction include a a ruby and diamond bracelet by Van Cleef & Arpels with invisible prongs estimated at $150,000 to $250,000; and a Bulgari platinum, diamond and gold-coin necklace, estimated to fetch $15,000 to $20,000.
The collection, drawn primarily from the Sinatras' residences in Palm Springs, is valued at at more than $3 million.