SOTHEBY'S: LARGEST FANCY PINK DIAMOND TO FETCH $20-30 MILLION
SOTHEBY'S: LARGEST FANCY PINK DIAMOND TO FETCH $20-30 MILLION
The Raj Pink - a 37.30 carats, Fancy Intense Pink diamond, will go under the hammer in November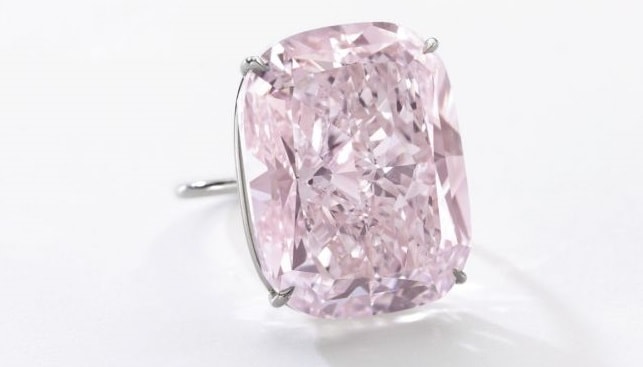 The Raj Pink – a 37.30 carats, Fancy Intense Pink diamond unearthed in 2015, will go under the hammer at Sotheby's Magnificent Jewels and Noble Jewels sale in Geneva on November 15.
According to the auction house, the cushion-cut diamond is "the largest fancy intense pink diamond on record" and is estimated to sell for between $20 – $30 million. The Raj Pink is now on view on Dubai, and will remain available to view at Sotheby's Dubai until October 11. The stone is owned by an anonymous person, who named it the Raj King based on the Sanksrit word for "king".
David Bennett, Worldwide Chairman of Sotheby's International Jewellery Division, said: "The discovery of any pink diamond is exceptional, but The Raj Pink's remarkable size and intensity of colour places it in the rarefied company of the most important pink diamonds known".