SOTHEBY'S TO SELL RARE "TUTTI-FRUTTI" BRACELET AT HONG KONG
SOTHEBY'S TO SELL RARE "TUTTI-FRUTTI" BRACELET AT HONG KONG
Sotheby's Hong Kong Sale will be led by a rare and pricey Tutti-Frutti Cartier bracelet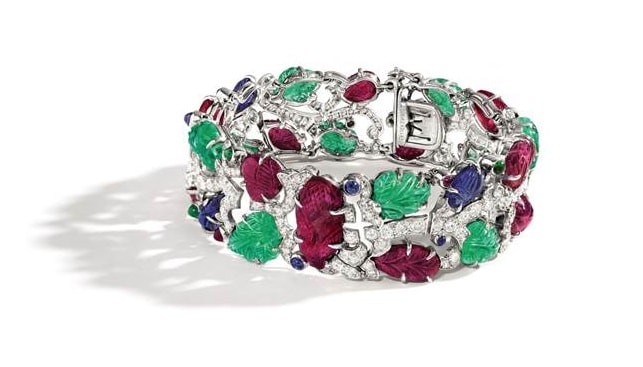 Sotheby's Hong Kong Magnificent Jewels and Jadeite Autumn Sale, to be held on October 3, will be led by a Tutti-Frutti Cartier bracelet, which Sotheby's defines as a rare art deco piece.
The "Tutti Frutti" Cartier bracelet features "an exquisite 8.49-carat ruby ring by JAR and an impressive emerald and diamond parure by Van Cleef & Arpels". The pre-sale estimate is at $1,300,000 – $1,800,000.
QUEK Chin Yeow, Deputy Chairman of Sotheby's Asia and Chairman of International Jewellery, Asia, said: "We are extremely pleased to present a great selection of the marvellous jewels to captivate our Asian jewellery connoisseurs: From an iconic Cartier 'Tutti Frutti' masterpiece to an amazingly rare 'pigeon's blood' ruby in a revolutionary mounting by Indian supremo designer, BHAGAT, not to mention blue and pink diamonds and an array of precious gemstones […]".