US Watch and Jewelry Sales – the Highest in "At Least a Decade"
US Watch and Jewelry Sales – the Highest in "At Least a Decade"
Total sales of US watches and jewelry totaled more than $115 billion in 2021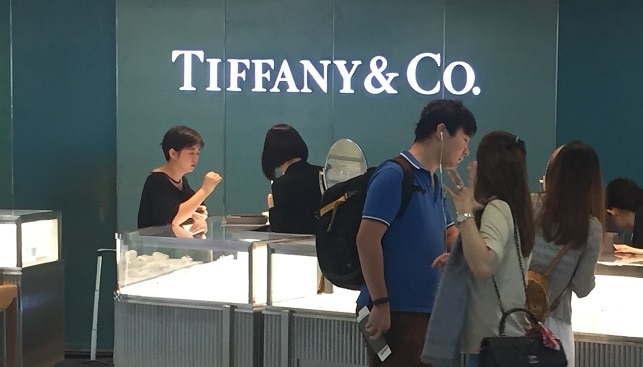 According to an analysis published by IDEX Online, total sales of US watches and jewelry totaled more than $115 billion in 2021 – "the highest figure, by far, for at least a decade."
The figure represents an increase of just over 50% over 2020, driven by "a spending spree" by stay-at-home consumers as "travel restrictions halted their vacation plans so they bought jewelry instead." Between 2012 and 2020, sales averaged $72 billion.
In February, jewelry and watch sales in the US rose 30.1% year-on-year – more than January's 24% and slightly above December's 29.5%. Jewelry sales rose 30.4% and watch sales were up 28.9% during February.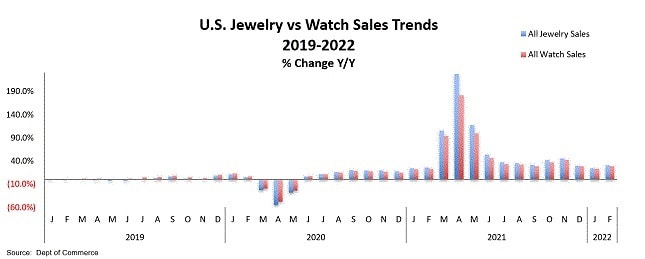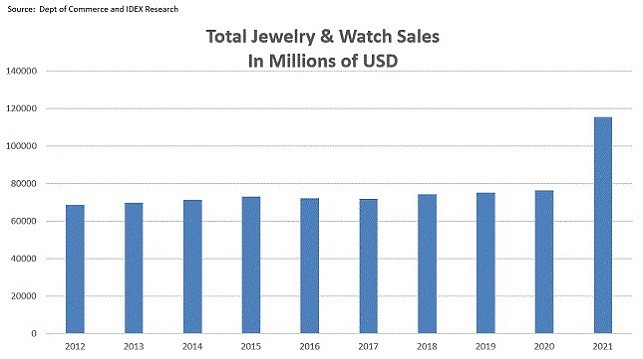 According to the analysis, consumer spending in the US "continues its upward trajectory (8.7% year-on-year in February, according to Mastercard), with sustained rises in jewelry sales." While Covid is still here, it is "barely impacting the jewelry sector," and the sanctions against Russian diamonds "have not made much difference so far."
Read the full analysis here.