RIO TINTO UNVEILS THE ARGYLE EVERGLOW DIAMOND IN AUSTRALIA
Rio Tinto has unveiled the largest Fancy Red diamond in Argyle tender history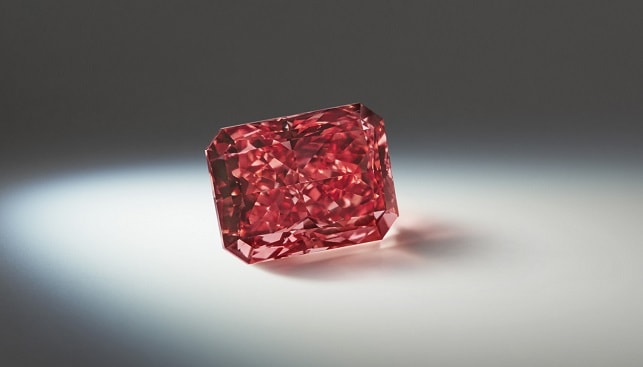 Rio Tinto has unveiled the largest Fancy Red diamond in the history of its Argyle Pink Diamonds Tender – The Argyle Everglow™ – during a special preview in Perth.
Rio Tinto chief executive J-S Jacques said in a press release: "The market fundamentals for pink diamonds remain robust. The combination of healthy demand and extremely limited supply continues to support significant value appreciation for pink diamonds".
According to Rio Tinto, The Argyle Everglow™ has been assessed by the Gemological Institute of America (GIA) as "a notable diamond with a grade of Fancy Red VS2". The diamond is rare indeed: in the 33-year history of the Argyle Pink Diamonds Tender, there have been less than 20 carats of Fancy Red certified diamonds sold.
The 2017 Argyle Pink Diamonds Tender, named 'Custodians of Rare Beauty', features 58 diamonds with a total weight of 49.39 carats, including four Fancy Red diamonds, four Purplish Red diamonds, two Violet diamonds, and one Blue diamond. The tender will be showcased in New York, Hong Kong and Perth with bids closing on 11 October 2017.