ALROSA EXTRACTS ITS LARGEST YELLOW DIAMOND OF THE YEAR
The 28.59-carat rough diamond is of deep greenish-yellow hue defined as a rare "Fancy Intense Yellow"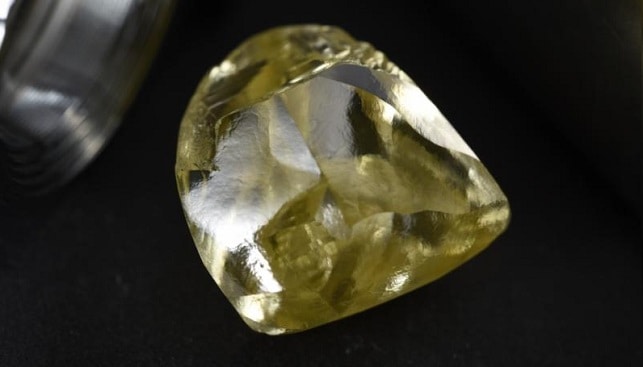 Russian mining giant Alrosa announced that its subsidiary JSC AlmazyAnabara has extracted a 28.59-carat rough diamond of deep greenish-yellow hue, defined as a rare "Fancy Intense Yellow". Alrosa said that it is the largest yellow rough diamond the company has mined since the beginning of 2018.
Evgeny Agureev, Director of the United Selling Organization of Alrosa, said that the stone is "also unique because nature seemed to have prepared it for cutting and in advance [and] gave it a pear-like shape.
The company added that in 2017, AlmazyAnabara extracted a unique 27.85-carat pure pink diamond – the largest pink stone in the miner's history, as well as a large 34.17-carat vivid yellow diamond. Currently, Alrosa produces at least 7,000 carats of colored diamonds per year.