14.93-CARAT PINK DIAMOND RING SELLS FOR $32 MILLION
14.93-CARAT PINK DIAMOND RING SELLS FOR $32 MILLION
The price achieved per carat is a world-record price for any pink diamond over 10 carats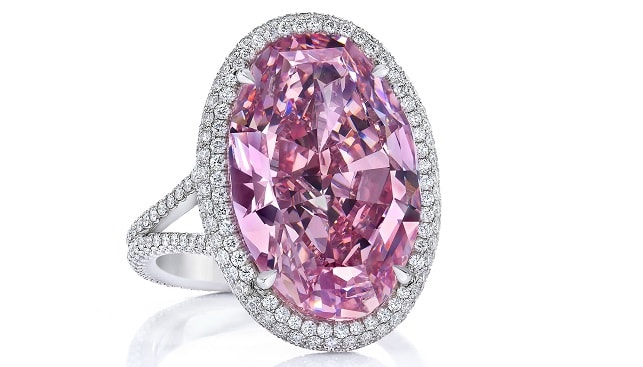 Christie's Magnificent Jewels Hong Kong auction held yesterday (November 28) was led by the sale of a rare 14.93-carat Fancy Vivid VVS1 pink diamond – The Pink Promise Diamond. The stone, set in a platinum ring and surrounded by diamonds, sold for $31,861,000 (about $2.13 million per carat).
According to a press release by gemologist and jeweler Stephen Silv, who originally purchased the stone in 2013 when it was a 16.21-carat Fancy Intense pink, the price achieved per carat is a world-record per-carat price for any pink diamond over 10 carats. The diamond, a pink oval stone with mixed cuts, is certified as Fancy Vivid Pink diamond, "the most prized color grade of all pink diamonds".
Silver worked with a master gem-cutter over a period of three years to achieve the stone's maximum color potential. The process, he says, "gambled millions of dollars in lost carat weight if the recut stone failed to raise its color grade as hoped". Finally, the GIA affirmed that the stone, "with its new weight of 14.93 carats, had achieved a Fancy Vivid pink color grading".