BONHAMS TO SELL 18.04-CARAT RING OF "SENSATIONAL FIRE AND CUT"
BONHAMS TO SELL 18.04-CARAT RING OF "SENSATIONAL FIRE AND CUT"
The ring, expected to bring up to $600,000, is flanked by trillion-cut diamonds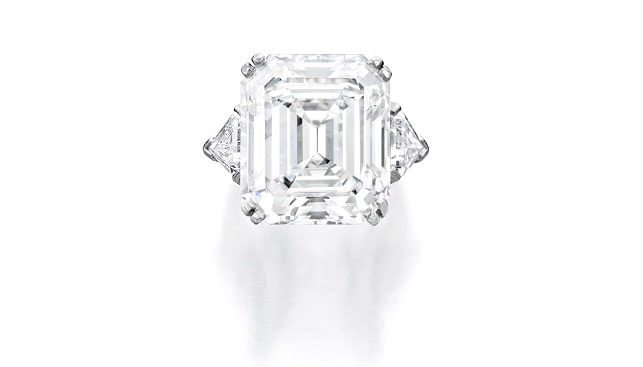 On December 3, Bonhams will hold its Fine Jewelry sale in New York. Among the highlighted items, which include white diamonds and Fancy colored diamonds, is a white emerald-cut diamond ring of 18.04 carats, flanked by trillion-cut diamonds and estimated at $400,000-$600,000.
According to Caroline Morrissey, Head of Sale at Bonhams Jewelry (US), the ring provides "a beautiful example of a large, white diamond exhibiting sensational fire and cut. It comes from a private collection and will be the first time it has appeared at auction".
Other diamond pieces to go under the hammer include a sapphire and diamond ring from Sri Lanka weighing 33.03 carats and estimated at $250,000-$350,000; a pair of Fancy colored diamond earrings set with cushion-shaped Fancy vivid yellow diamonds, each weighing 3 carats; and a Fancy colored diamond ring centering a cushion-shaped Fancy light yellow diamond weighing 18.76 carats, flanked by trillion-shaped diamonds.