CHOPARD TEAMS WITH RIHANNA TO CREATE NEW COLLECTION OF JEWELRY
CHOPARD TEAMS WITH RIHANNA TO CREATE NEW COLLECTION OF JEWELRY
Swiss jewelry house Chopard has teamed with the mega-famous singer Rihanna to create a collection called "Rihanna Loves Chopard"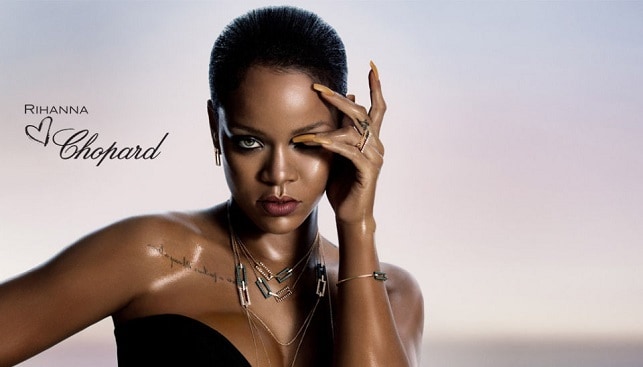 Swiss jewelry house Chopard has teamed with the mega-famous singer Rihanna to create a collection called "Rihanna Loves Chopard", according to multiple news sources.
The collection features two lines: the Joaillerie Collection – a clean-lined, geometric collection of necklaces, rings and earrings made from ethical 18-carat "Fairmined-certified" rose gold accented with ceramic blocks in jungle green; and the "High Jewelry Collection" made up of a watch, chandelier earrings, and two ear clips – all set with precious gemstones and diamonds.
Chopard will debut the new collection at The Cannes Film Festival this May. In a press release by Chopard, Rihanna comments: "I have always been in love with Chopard's exquisite jewelry, so to actually design collections with them is something I still can't believe".