GEMFIELDS AND FABERGE UNVEIL WORLD'S FIRST "PERSONALIZED EMERALD"
GEMFIELDS AND FABERGE UNVEIL WORLD'S FIRST "PERSONALIZED EMERALD"
The girdle of the emerald is laser-engraved with a secret message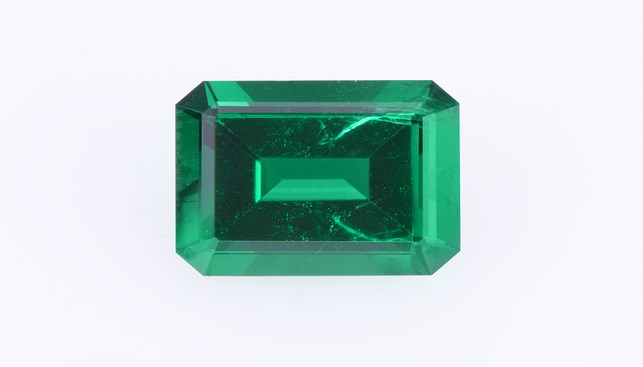 Gemfields and Fabergé have partnered to create what they call "the world's first emerald laser-inscribed with traceability information and a personalised message".
According to a press release, the 4.11 carat, green emerald-cut gem was mined at Gemfields' Kagem mine in Zambia, and was then acquired and mounted by Fabergé "as a custom-crafted item" for the winner of a charity auction held in November.
The girdle of the emerald is laser-engraved with a secret message chosen by the winner, the reference number of the gemstone's Gübelin laboratory certificate, and a Gemfields reference number. According to the company, the information needs to be magnified [20x] to be read, and the laser-inscription process "has no effect on the colour, clarity or other characteristics of the gem". Sean Gilbertson, CEO of Gemfields, added: "[…] Gemfields' belief that there is 'A story in every gemstone' is taken to a new level by laser-engraving a personalised message on a gem […]".